I was mostly certain that the unconfirmed spoilers for Nice Guy that I posted yesterday were likely not true. It would be a nice enough and have symmetry with the overall narrative construct laid down by Lee Kyung Hee, but ultimately I have this feeling the drama is headed in another direction. Call it my pessimistic side rearing its cautious head, if you will. I also thought sharing those possible spoilers is a fun way to discuss what kind of ending everyone wants, the one written there or something different. This is one drama where its not about a happy or sad ending, but an ending that would justify the journey taken by the characters and give us something to ponder afterwards. I'm sure the cast and crew are on a crazy day and night filming schedule right now to churn out the final two episodes and I send them my gratitude and utmost respect for delivering such high quality entertainment from beginning to end. The writing hasn't slacked off, the acting is not on cruise control, and the directing remains brilliant as ever. Below are spoiler pictures of the NG crew filming at a certain location this weekend. If I reveal the location above the post it would be a giant spoiler as is so I will play coy.
I have to giggle at some of the angles where the fans were sneaking pictures of the filming. I can imagine fans running all over the place going crazy trying to peek at the filming and trying to get a picture which is worth a thousand words. If I were there, I don't know how I could control myself not to rush over and give both Moon Chae Won and Song Joong Ki giant bear hugs and thank them profusely for being such consummate and amazing young actors who have truly done their characters justice. Same goes for Park Shi Yeon as well, who was never an actress I was fond of, though I have watched her improve her acting by leaps and bounds since she debuted fresh from winning Miss Korea and being Eric's girlfriend. In the role of Han Jae Hee, she manages to show off every aspect of Jae Hee's weaknesses and complexities. I also think she's is super duper absolutely pregnant (about 5 months along if you ask me based on her bump), and to deliver the performance that we are seeing onscreen while dealing with the physical aspects of being pregnant makes me even more impressed. I'm sure she won't confirm it until the drama wraps, but if she turns out not to be pregnant then I'll have to wonder how many donuts she tucked away in the last few months. She's also glowing as well, so whatever she's eating I want some!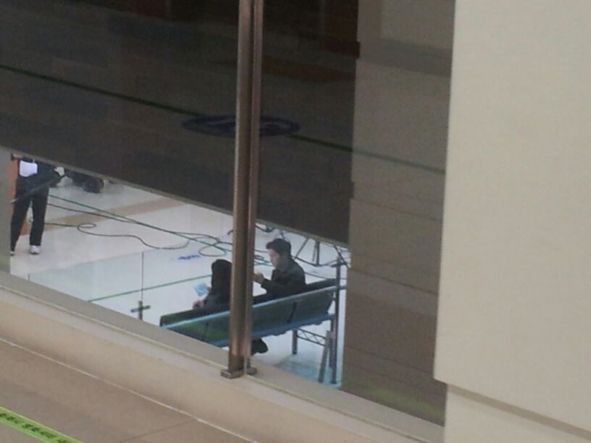 Fans caught the NG cast filming at the hospital. From the scenes its all Maru and Eun Gi, which means the spoilers yesterday are likely not true. Word on the street is that it's Joon Ha that has been hospitalized. I hope they run into Maru's doctor friend and he gets dragged off to surgery as well, because I can't deal with his looming hematoma explosion much longer. I'm also slightly mollified in seeing Maru and Eun Gi hugging. Those two need to hug and kiss more and talk less.