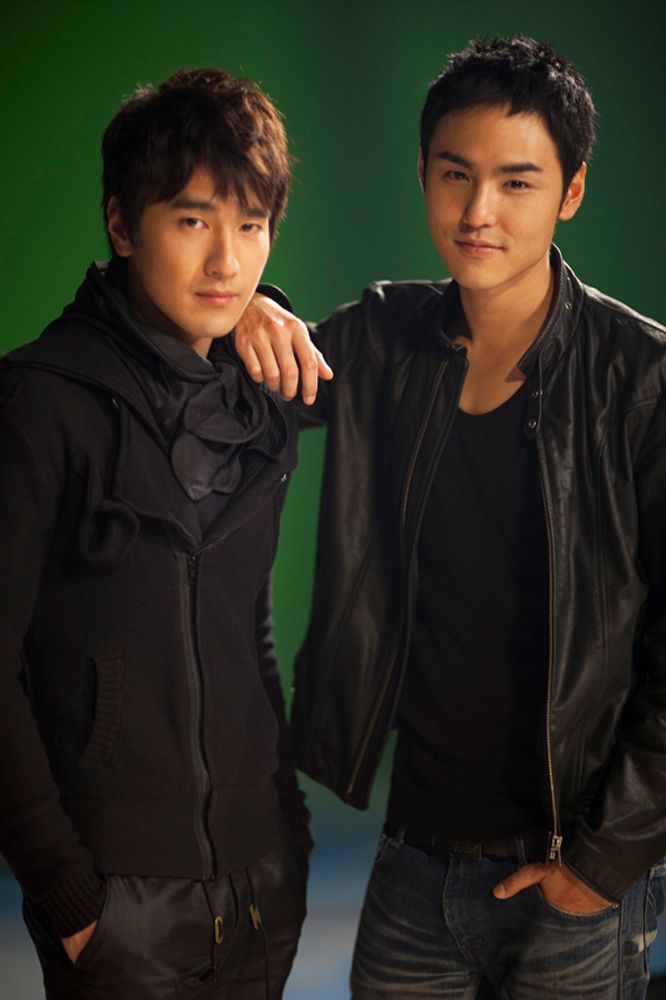 With AKP fully branching out from K-dramas to TW-dramas in recent weeks, culminating in my decision to recap Sunny Happiness, I think it's fitting to devote a post to a collection of Taiwan actors who breathe life into dramas and movies from that region of the world. I'll be giving my personal impressions of these actors, as well as a brief synopsis of their filmographies.

I'm sure I've posted enough about them, so its no secret that my two favorite Taiwanese actors are Vic Zhou (Zai Zai) and Joe Cheng (Xiao Zhong 小综). I am currently heavily sedating myself so that I don't become a Mike He (Xiao Mei 小美) fangirl, because I can ill afford a new love. However, I can happily watch any of these men below in any drama, as long as the drama is good.
Ethan Ruan
Ethan's nickname is Xiao Tian 小天, and he's the newly crowned #1 Brother of Taiwan entertainment, with a hit movie (Monga) and two hit dramas (the number 1 rated Fated To Love You and the critically acclaimed My Queen) under his belt, and is the reigning Golden Horse Best Actor winner (for his performance in Monga).
I like Ethan, who has had to work harder than his two best friends Joe Cheng and Mike He, to succeed in show biz (all three belong to the same agency and are all model-turned-actors, but Ethan was blacklisted because he refused to break up with girlfriend Tiffany Hsu).
Ethan doesn't leave much of an impression in still pictures, but on screen he comes alive. He has great chemistry with any co-star, and is a genuine acting talent (with some still unpolished rough edges). My favorite Ethan performance is in My Queen, where he redefined the noona-dongsaeng romance. He's a daring actor that isn't afraid to act out any scene. Next up for Ethan is his final project before doing his mandatory military service – the movie LOVE, which will reunite him with his Monga director and co-star Mark Chao (female lead is rumored to be either Zhou Xun or Vicky Zhao Wei),
Mark Chao
Talk about a bullet to stardom – he burst out of nowhere to land the coveted co-starring role in Black & White (playing Yin Xiong to Zai Zai's Pi Zi – originally Yin Xiong was given to Jerry Yan, who declined). It was his first acting role, and he had incredible screen presence and great chemistry with his co-stars Zai Zai and Sonia Sui. He beat out Zai Zai for the Golden Bell Best Actor Award that year (still the biggest upset of all time), and followed it up with a box office smash movie Monga with Ethan.
Mark is currently one of the most sought after actors in the Taiwan entertainment business, and will be reuniting with Ethan for the movie LOVE. Mark's father is a legendary Taiwanese actor, and he grew up in Canada and is fluent in English. I like Mark, despite being peeved that he got the Best Actor award over Zai Zai, because he's the rare young TW-actor who has masculine gravitas and explosive screen presence.
Jerry Yan
Jerry, Jerry, Jerry – it wouldn't be too far-fetched to consider him the godfather of Taiwanese idol actors. Got his big break a decade ago in Meteor Garden, and followed up with both onscreen success with various dramas as well as popstar success as the leader of the boyband F4 (along with Zai Zai, Ken Zhu, and Vanness Wu).
I'm very neutral on Jerry, he neither rubs me the wrong way or makes me completely absorbed by any of his performances. I think he's just not my type (his face is too angular for me, but I concede he's pretty handsome), but as an actor he is a solid leading man with more range than I think he's shown thus far. Perhaps he's better suited for movies?
Show Luo
I think most people know Show from his popular Corner with Love with Barbie Hsu. I first got to know Show from his singing and entertainment show hosting duties, and I have a hard time taking him seriously as an actor. I like him as an entertainer much better than I like him as an actor. He's a versatile performer who has a great personality and a lot of drive.
Vic Zhou (Zai Zai)
Vic is known throughout the industry by his nickname of Zai Zai, so much so that news reports just run with headers of "Zai Zai is doing X…" He's the TW-actor that I've had the greatest change of heart about – from meh in Meteor Garden to OMG-I-Love-Him in Black & White.
A reserved and introverted person in real life, he nevertheless is a method actor who lives and breathes any character he plays. His acting is soulful and riveting – he gave a career-topping performance in B&W that I still get goosebumps when I think about. Zai Zai's next project will be the C-drama Returning Home, co-starring Janine Chang.
Wu Zun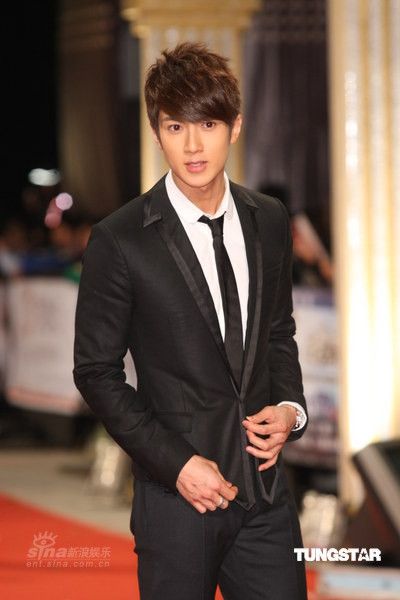 He's an awful actor, and its a fact universally acknowledged and accepted. He's also one of the prettiest actors in the industry, and a nice guy with a lot of heart. I've got a soft spot for him, because he tries so hard, yet acting is clearly never going to be his calling. But it's okay, because everyone adores him for being such a cute (and buff) puppy, and he's got a niche all his own – the perfect robot. Wu Zun has already completed filming for the upcoming drama Sunshine Angel, co-starring Rainie Yang.
Blue Lan
I find Blue really off-putting in stills (his jaw just jumps out at me), and I think his acting is cavalier and heavy-handed. Even with these perceptions of him, when I watch him onscreen, somehow I have the urge to keep on watching. If he was ever in a good drama, I'd probably enjoy his performance and watch the entire thing. But his two most recent leading man roles were in Easy Fortune Happy Life and P.S. Man, both of which I couldn't get past a few episodes. Rumors are floating around that Blue is the male lead for part III of the Happy Trilogy, of which part II is my current addiction Sunny Happiness.
Joe Cheng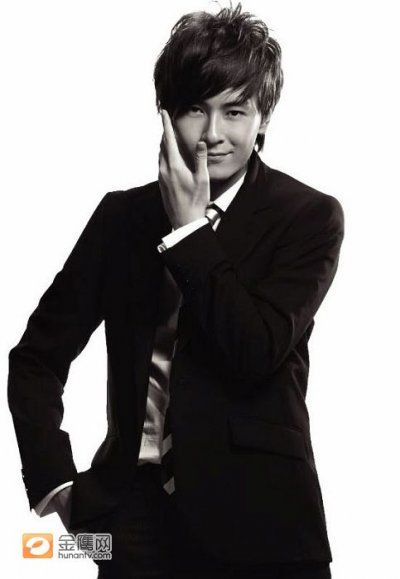 I must've owed Joe something in my past life, because this boy literally can do no wrong in my eyes. Even though he's had fewer great performances than duds (The Rose and It Started With a Kiss being his crowning achievements), I treat his dreadful dramas as anomalies and continue to swoon at the mere mention of him.
He probably doesn't have the range that Ethan, Jerry, or Zai Zai has, but Joe has this sureness in his performance that I love. He's always in control of his character, and never the other way around. Joe's current drama is the stinker Channel X, which is one of the worst dramas I've ever watched, made all the worse because I love Joe so much I keep watching out of sympathy and self-torture.
Vanness Wu
Before Autumn's Concerto, he'd never have made this post. I still don't think he's anywhere close to a good actor, but he demonstrated that he can be serviceable in the right role and with the right co-star. He lucked out with Ady An in AC, because their sizzling chemistry overwhelmed the holes in the drama and turned his mediocre performance into something memorable. I'm happy Vanness has made a spiritual transformation in his life and appears to have a new career objective. I'm looking forward to his upcoming drama Material Queen with Lynn Xiong.
Ming Dao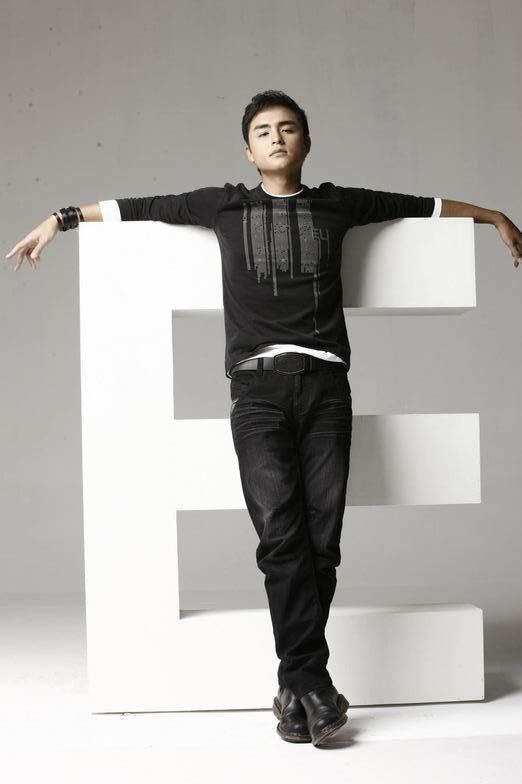 There are two Ming Daos. Pre-2008 MD (TW-idol heartthrob) and post-2008 MD (C-drama king of the melos). I love the former and can't abide by the latter. My favorite Ming Dao performance (and is likely everyone's favorite) remains his hotel-chaebol-turned-amnesia-mainlander in Prince Turned into Frog.
I managed to finish his most recent drama Zhong Wu Yen (with Cheryl Yang), but I'm always wishing that he could up his game. It's like he's stayed stagnant in his acting for the last 6 years. I think Ming Dao's biggest success was pairing with Chen Qiao En in PTIF, and his biggest failure was turning down the starring role in Fated to Love You (which would have reunited him with Qiao En for their third go-around), which later went to Ethan Ruan. And we all know what happened to Ethan after that.
Mike He
Who would have imagined that Mike He would wow me one day? I sure didn't, and never saw the blindside coming when I decided to check out Sunny Happiness. Mike shot to stardom with Devil Beside You co-starring Rainie Yang. Supposedly they had such great chemistry they were reunited in Why Why Love. I can't confirm since I couldn't get past episode 1 of either drama. Neither could I watch Love Contract with him and Ariel Lin (despite my abiding love for Ariel).
I can confirm that Mike is awesome in SH with Janine Chang, and that his acting has this newfounded maturity and comfort. However, I don't have high hopes for Mike's next drama, Mei Le Go, co-starring the female block of wood herself Cyndi Wang.
Jiro Wang
Jiro is the other Fahrenheit member other than Wu Zun to transition to solid leading man status. I used to think he was totally weird looking (when he was the second male lead in It Started with a Kiss and the TW version of HanaKimi), until my sister kept making me watch Fahrenheit videos and I realized that the popstar incarnation of Jiro is actually quite hot. I also checked out his Momo Love with Cyndi Wang, where for the first time I found him handsome and charming. I think he's a good actor with range, but I never have the urge to watch his works.
Second Leads Turn Into Leading Men
Baron Chen and Roy Qiu
Both of these guys shot to stardom playing second male leads in dramas starring Chen Qiao En (Baron in Fated to Love You, Roy in Easy Fortune Happy Life). Both are currrently co-male leads in the smash hit C-drama The Daughters (Xia Jia San Qian Jin or The Three Daughters of the Xia Family). For some reason I just like Baron and Roy. Don't ask me why. Baron has this brooding aura, and Roy is truly versatile and can pull off funny, cute, or dramatic. Expect both to be bona fide male leads going forward.
Chris Wu
Perhaps my favorite second male lead actor in all of TW-dramas. I rooted for him both times he was the second male lead (in Autumn's Concerto and in Zhong Wu Yen). I love his acting, a combination of intense and restrained. I will watch anything he stars in going forward, because I think he's super cute and uber-talented.
The Other Two Fahrenheit Boys: Calvin Chen and Aaron Yan
Calvin Chen and Aaron Yan are now leading men in their own right, co-starring in Love Buffet. But to me they will both be like kids playing dress up. Calvin is clearly a better actor than Aaron, but Aaron is so damn adorable I can't help but stare at him when he's onscreen. And then I cringe when he opens his mouth to say a line of dialogue. If both of them develop more screen presence and acting experience, they represent the next generation of TW idol leading men.
My Thoughts:
This post is clearly not all-inclusive, and I left out, amongst others, leading men like James Wen, Wilbur Pan, Peter Ho, and Nicholas Teo. Some of these guys I don't like at all, and others don't make much of an impression either way with me. The TW acting industry is very small, and many of these leading men are friends with each other, some are even super BFFs like Joe Cheng, Ethan Ruan, and Mike He.
Going through this list, I realized that there are some really talented TW-actors, and some really sweet eye candy. Finding a good TW-drama is like looking for a needle in a haystack, but having these super cuties around makes the search somewhat entertaining and definitely easy on the eyes.