There must be something in the air around here, because I am way more excited about upcoming TW-dramas than I am about upcoming K-dramas (with the exception of Best Love). GTV is totally on a roll these days, it has Hayate the Combat Butler completed, and now Extravagant Challange, its long-awaited live-action adaptation of the manga Skip Beat finally starts filming tomorrow.
The main cast attended a press conference yesterday to introduce the leads and to start drumming up interest. Oh, my interest is on high alert all right. Super Junior's Choi Si Won plays Ren, Lee Dong Hae plays Sho, Ivy Chen plays Kyoko, and Bianca Bai plays Moko. Si Won and Dong Hae's Chinese really is quite good, so I'm finger-crossed there will be no dubbing.
I think it's hilarious that Bianca Bai showed up at the press conference wearing flats (that girl never wears flats), a day after Dong Hae spoke to the media and joked that he was worried about acting opposite Bianca and being shorter than her, since she's a top model in Taiwan and one of the tallest actresses in the industry.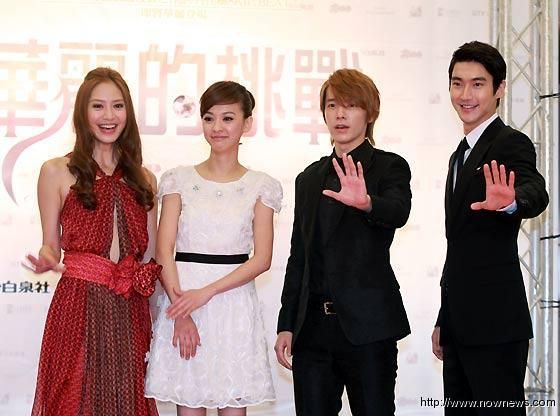 It's clear that the two ladies have just met their two male co-stars, but the four of them look great together, and I'm feeling my hopes rise again. The director (who directed last year's award-winning TW-movie Monga with Ethan Ruan and Mark Chao) was asked about kissing scenes, and he said that he's planning one for Si Won and Dong Hae, to which both boys protested loudly and said that was not cool.
The press conference: