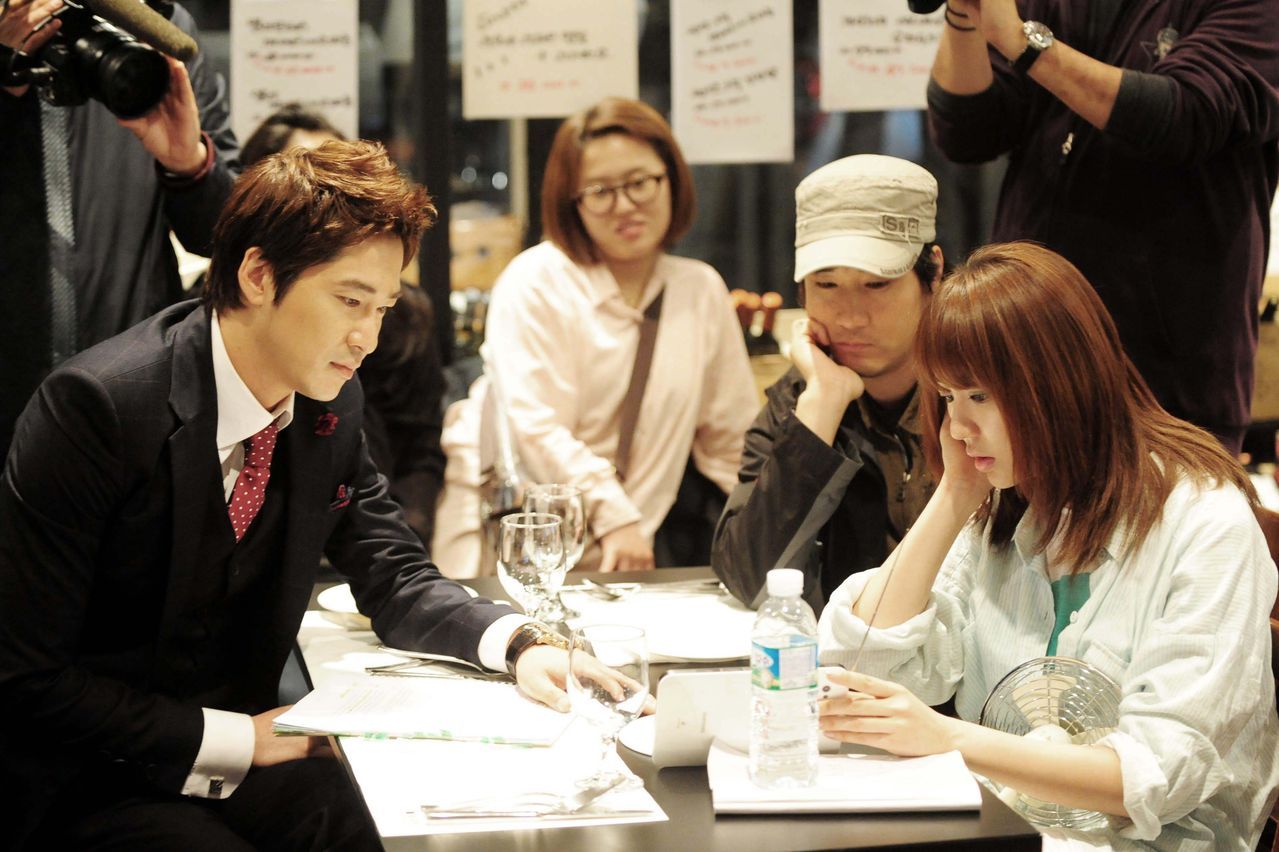 As a cardinal rule of Koalalandia, I do not RL ship unless there is BTS evidence to show me something is percolating outside of acting alone. Onscreen chemistry, however unparallel and combustible, is not enough to pine away for couples to get together. ArJoe-shippers the world over must know the pain, but I avoided that ship because all BTS and interviews convinced me nothing was there. I've added HwanHye to my RL-shippy list (well, it's not really a list, they are just joining their dongsaengs on it) because I'm not senile or delusional, and all the ancillary evidence points to two people who really adore each other.
Whether that means anything remains to be seen. But hey, at least I can hope, right? To inaugurate the HwanHye discussion forum, I've compiled a list of hints and winks that make me swoon for them. They are so perfect for each other. Kang Ji Hwan, what are you waiting for? Go make sure Ms. Yoon Eun Hye doesn't get away. I leave you all with a line of dialogue from Lie to Me: "The entire world knows about us, do you want to break up with oppa?"
It all started one Spring night in 2009, when they were paired up to present the TV category Best Actor and Best Actress awards at the Baeksangs. They discussed with each other the desire to work on a project together. But it would be 2 years later before that happened.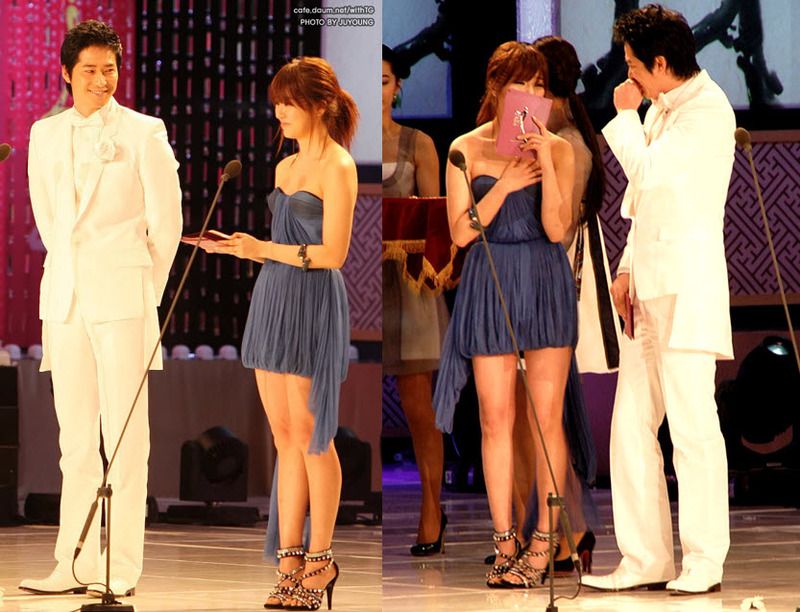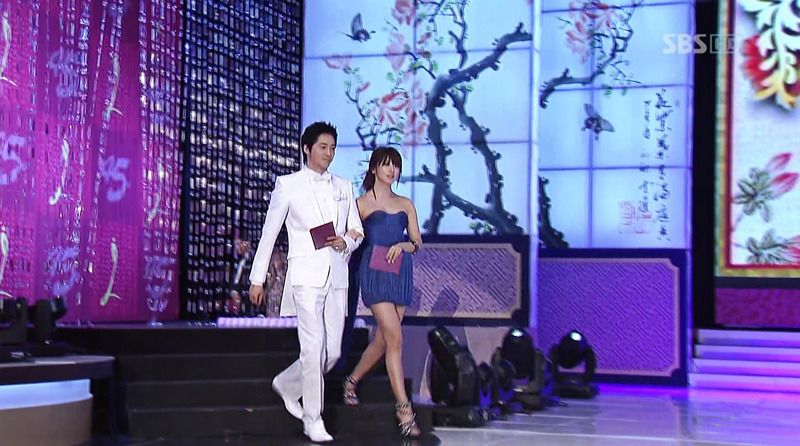 2010 rolls around, and Eun Hye's Love Song gets indefinitely postponed. She waits patiently because of her loyalty to the production company. Ji Hwan does Coffee House and upsets the Entertainment Association due to his unresolved contract dispute. He gets pulled from Faith.
By 2011, Love Song is finally shelved and Eun Hye agrees to do the production company's upcoming rom-com Lie to Me. Ji Hwan's gets off the ban but Faith is no longer green lit. He's available just in time to do Lie to Me. The stars have aligned.
At the press conference for LTM, both discuss how much they have wanted to work together. Ji Hwan later stated in a Cosmo interview that he wasn't particularly drawn to the character of Hyun Ki Joon. If that was the case, why did he accept the project? It's pretty clear it's because he wanted to work with Eun Hye. They were already adorably at ease with each other at the press conference. And whispering to each other is almost always a sign two people are close.
During the BTS for the scene in episode 1 where Ki Joon and Ah Jung first meet outside the club and she faints from the combination of bee venom mixed with alcohol, we see that Kang Ji Hwan helps Yoon Eun Hye up after every take. At one point, she lightly hits his leg and he rubs her neck in a passing gesture.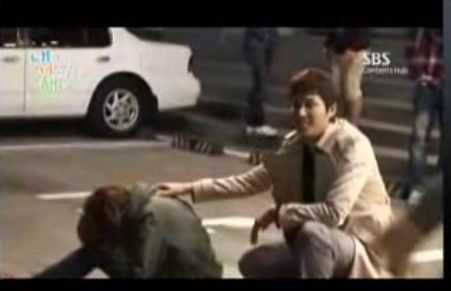 During the BTS for the hotel scene where Ah Jung topples over and spills orange juice on herself, at one point the camera captures Ji Hwan arranging pillows the ground to make sure Eun Hye is comfortable when she films the scene.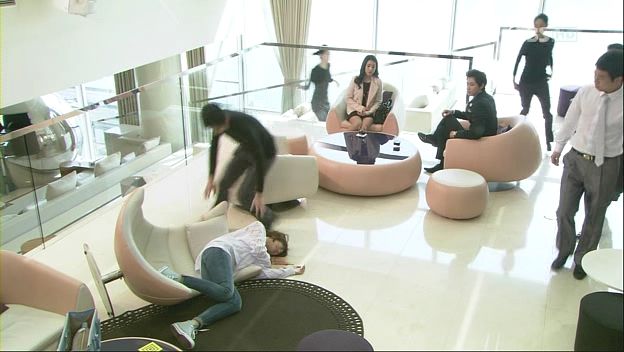 During the BTS for the duck boat scene where Ah Jung and Ki Joon meet on the lake to discuss their situation and dive into the water to save someone, Ji Hwan hands Eun Hye his heat pack to keep her warm. Later when they are on a rescue boat, he extends his left hand further than necessary and rests it on Eun Hye's knees. He also gives her such a warm smile on shore.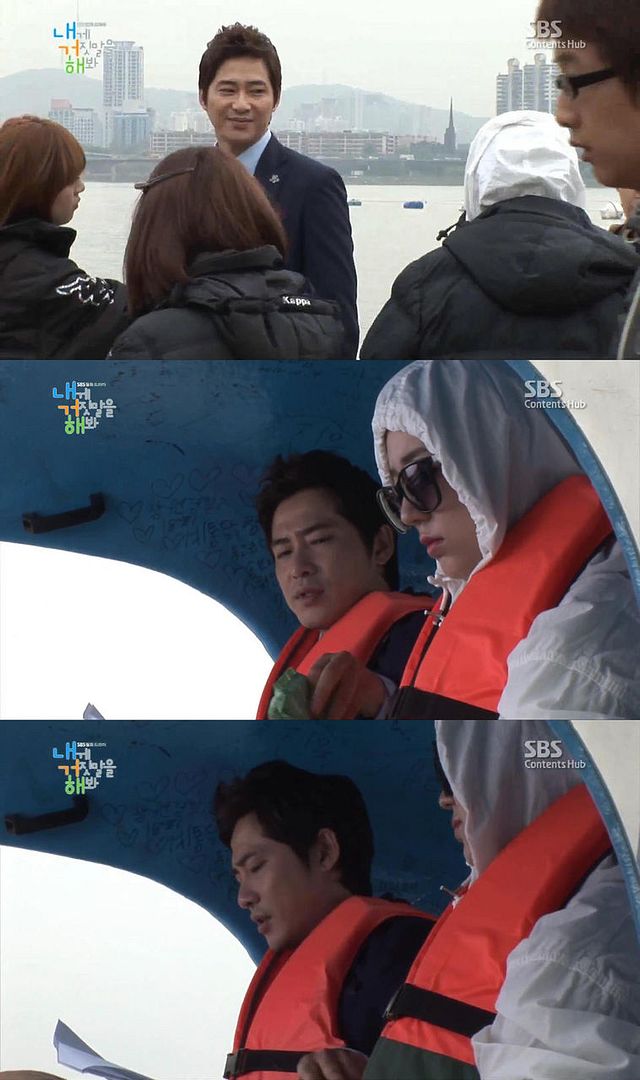 During the BTS for the drunken Ah Jung scene when she almost gets run over by a car and Ki Joon grabs her, then she vomits on him – Eun Hye helps put the fake vomit on Ji Hwan's suit, and he teasingly tells the camera "wuri Eun Hye is very considerate." To which Eun Hye very brusquely replies "it's done" with respect to the fake vomit application, as if to stop him from talking any further. "Wuri Eun Hye" is very telling indeed.
During the BTS for the ice-cream kiss, Eun Hye is asked which tie she would pick for Ji Hwan, and she says "he's got a great complexion so would look good in anything, he's so good looking that ties would die (pale in comparison) when worn by him." During this time Ji Hwan is holding a small electric fan up and fanning Eun Hye. He gets embarassed when he hears her compliment and turns the fan to fan himself, saying that "she always says this."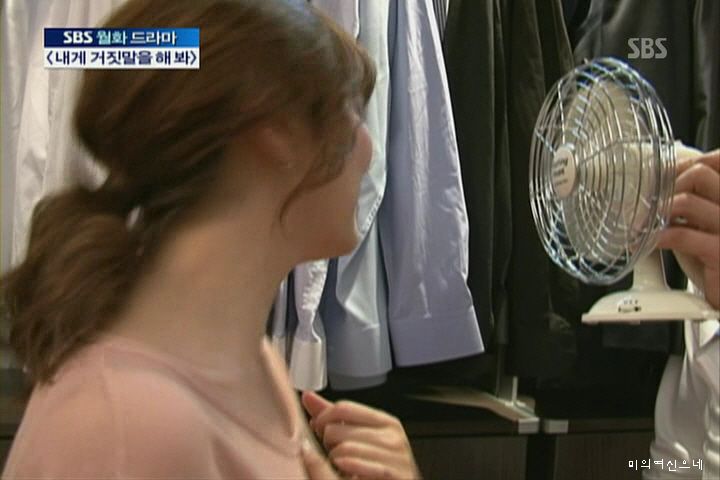 During the mid-drama press conference, Eun Hye and Ji Hwan are photographed making the same gestures. That always means one thing: one person is watching the other person constantly, so subconsciously makes the same gesture. It's call the yawn rule. If anyone watched Playful Kiss, it was cutely discussed in one episode – if Baek Seung Jo yawns, suddenly all the girls in the class yawn as well because they have been staring at him the entire time.
During the subsequent interview, Eun Hye refers to Ji Hwan as "oppa". I think it was a slip on her part. Ji Hwan apparently loves being called "oppa".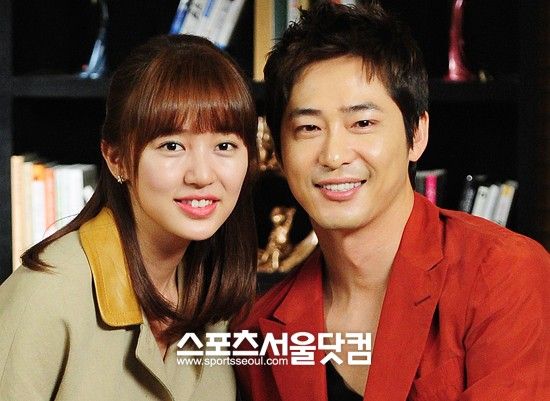 At the BTS interview Ji Hwan gave on Jeju island during the filming for episode 11, he was asked what he likes in a woman. He says he likes girls with very pretty hands and feet. And let's take a look at all the handholding and feet looking and touching that went on in LTM. Eun Hye is well-known in the industry for having very pretty hands and feet.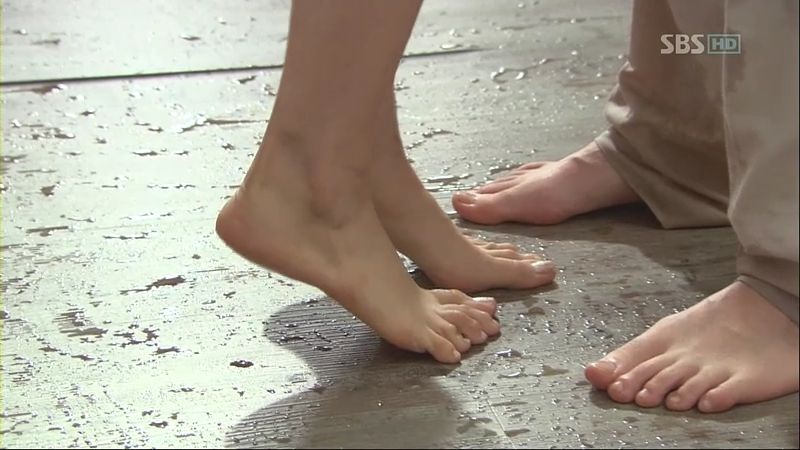 Ji Hwan also stated during the press interview that he wants to have the career of Choi Soo Jong (Comrades, President), one of the most respected and revered statesman actors in K-entertainment. What is notable is that Choi Soo Jong is married in real life to also top-actress Ha Hee Ra. They are an entertainment power couple. When Ha was pregnant, Choi did the housework, cooked, and let her rest, a fact that has made Choi very popular with Korean women and jokingly scorned by Korean men.
In a television interview in early 2010, Ha Hee Ra confessed that her husband is a better housekeeper than she is. Choi Soo Jong is frequently seen text messaging and making phone calls with his wife while filming. Their happy marriage is one of the most notable in the industry, and they co-starred in President earlier this year as a married couple, and the sparks onscreen was insanely fiery.
Eun Hye has also stated that she doesn't mind if her husband doesn't work (Ji Hwan had his ban for two years ) and stay at home and does the housework (Ji Hwan loves staying home and doing housework). I seriously think they are laying the groundwork for possibly hinting at each other being their ideals.
During the Jeju interview, Ji Hwan also is caught staring at Eun Hye with stars in his eyes.
Watch gif of Ji Hwan's thumb tendering stroking the back of Eun Hye's hand where no camera could possible be needing that type of extra gesture for the scene. See her lightly stroke him back.
When asked what he wants to do for the woman he loves, Ji Hwan says he wants to open an ice-cream store so that she can have a different flavor of ice-cream every single day. Thirty one flavors for thirty one days. Guess who's favorite food is ice-cream (Eun Hye), and how many random ice-cream scenes we got in one drama alone.
Ji Hwan and Eun Hye ad libbed a lot of scenes. These are only the ones that are confirmed.
You really want to break up with oppa?
You are so cute when you're like this.
I want to spend tonight with you.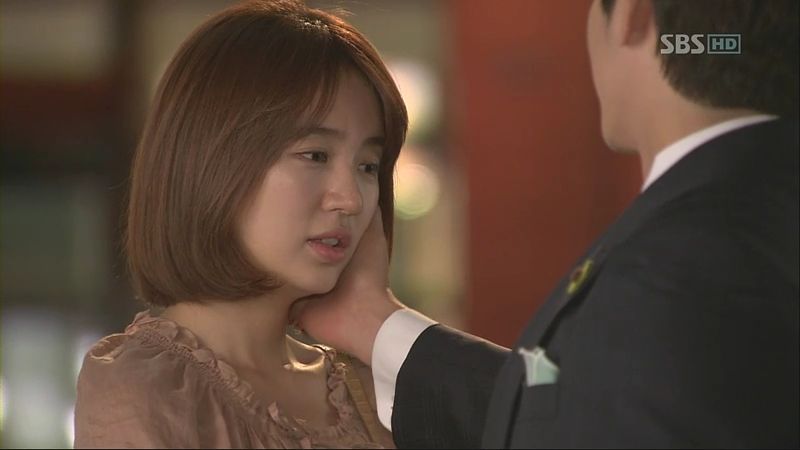 [All that extra water wiping in Jeju]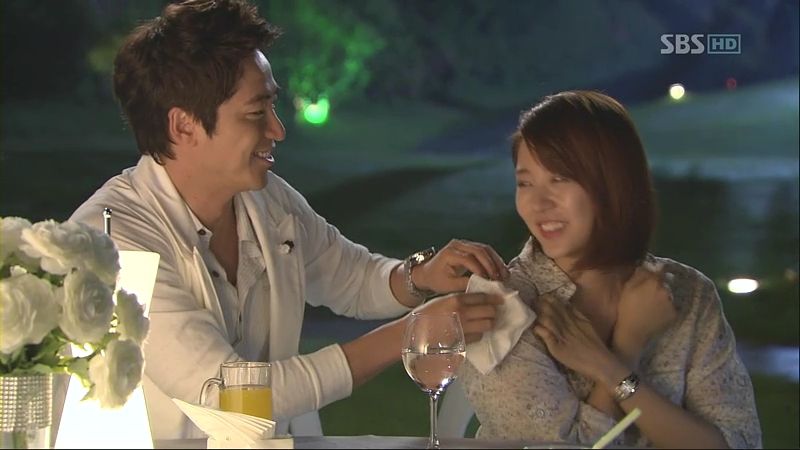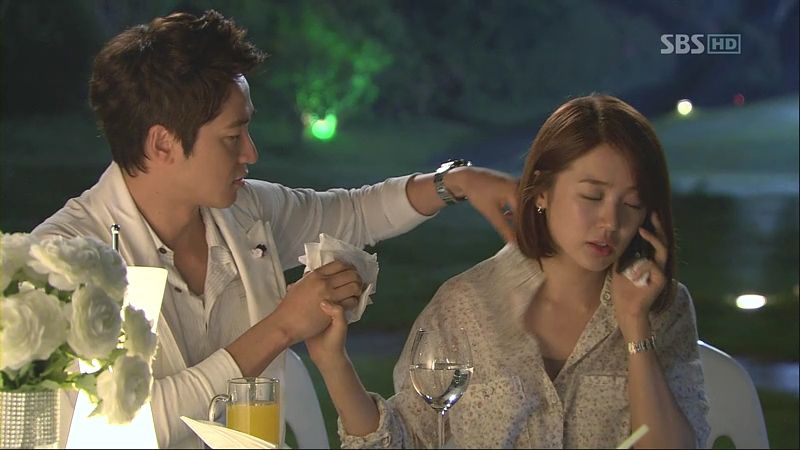 Kamsamnida, as she gets in the car. Ji Hwan's smile afterwards.
What time to meet, Ji Hwan added as 7:20 when it was supposed to end after 7:30.
Eun Hye feeding Ji Hwan the pastry after she took a bite of it first was added by her.
Kissing Ki Joon on the cheek and playing with his eyelashes were added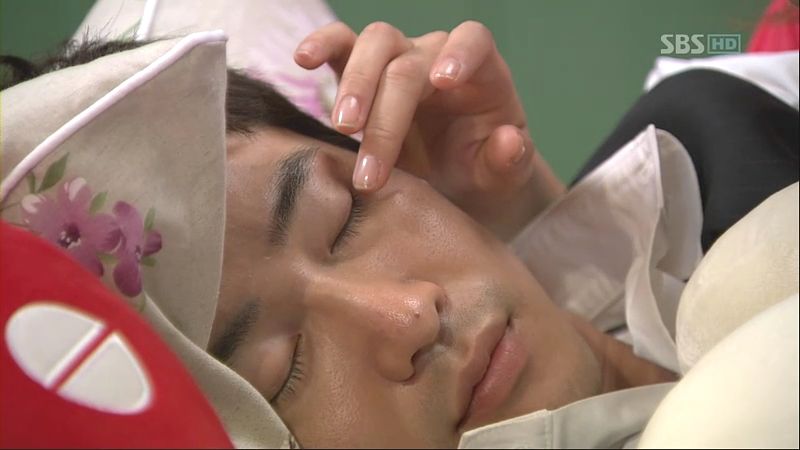 During the filming for the public declaration scene, we see Ji Hwan still holding tightly to Eun Hye's hand even though the cameras are not rolling. He's also fanning her again. So sweet.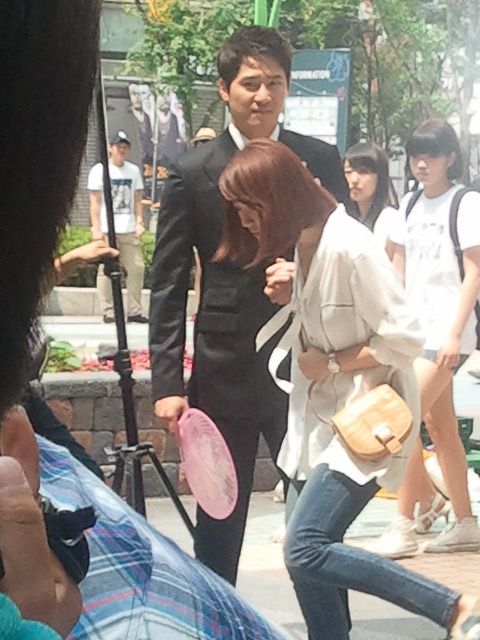 Here is Eun Hye sneaking a peek at oppa as they are taking the end of filming group picture.
At the wrap party, their very obvious efforts to avoid being too friendly with each other only bespoke something else must be going on. And in a split second screen capture, we see Eun Hye shoot Ji Hwan the exact same look Ah Jung uses on Ki Joon.
She looks at him.
He looks at her.
She's embarassed by what the actor playing Jae Bum said, so she turns towards Ji Hwan. Their arms brush.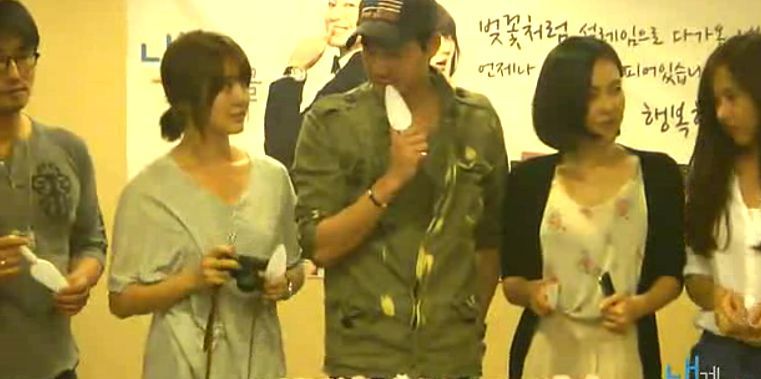 Surreptitious glances at each other, their eyes finally meet.
They both look down at the exact same time. Is that cake that delicious looking?
So there you have it. I've started the HSI-ing for everyone. You guys have fun and add tibdits of information and nuggets of astute observation as you discover more clues. My only ground rules of the forum are this: if they don't end up together we should be happy for whomever they have each found happiness with, and we should respect each other's opinion and always be civil and courteous. Try not to spam and always read comments so not to be duplicative.
I'm totally spoiled by the eagle-eyed ladies at the GeunGeun discussion forum, who have insanely compiled an unrefutable laundry list of coincidences, suspicious activity, and sundry other details that make their ship so much stronger. Hope you HwanHye shippers can do so as well.
Lastly, the forum really is a place for friends who loved LTM and HwanHye to gather and chitchat. Feel free to park yourself there, or come back from time-to-time. I promised you guys a permanent thread to play in, so here it is. In the end, LTM delivered so many moments of unbridled passion that we were all swept away. I will forever remember this experience, and hope to hear good news in the not-so-distant future.
A toast to Ji Hwan and Eun Hye – together they created the most mature and palpable love story I have ever watched onscreen. HwanHye will always have a safe home at the playground where the magic of their onscreen (and offscreen) interactions will forever be treasured.
KJH: "Hey guys, that's my yobo over there! Isn't she the prettiest thing you ever saw?"