Hold me, I'm scared. Monday started off with a bang when extended video previews for Nice Guy episodes 9 and 10 were leaked. Trust me when I say I watched it with my jaw open. Aside from the major character twist we've been told about since the plot synopsis was released months ago, with Eun Gi losing her memory, everything else that went along with it is a doozy for me. I suppose this is cool because the trajectory wasn't what I expected, but perhaps I was expecting magical happy unicorns when really everyone in this drama is still in a deep dark twisted place and can't possibly be happy this early in the game when the drama hasn't even hit the halfway mark yet. I think my affection for Eun Gi, her crazy candor, her painful cold environment growing up, her instant connection with Maru, all of that really speaks to me and perhaps I want her to find happiness even to the point of sacrificing narrative coherence to get there. Which is to say, if she and Maru eloped and the rest of the drama was them making babies and being happy, I would still declare NG a rousing success! Heh. Anyhoo, looks like that pipe dream of mine isn't happening anytime soon, so check out the spoilers pictures and summary below at your election.
Eun Gi and Maru are at the beach laying out all the cards between them. Maru still insists everything he did towards Eun Gi was calculated in his quest to get close to Jae Hee. Eun Gi pokes through his bullshit, reminding him that he risked death to save her doll, and why would he do that? It's clear Maru will not budge from her grilling to admit that he has genuine feelings for Eun Gi that developed during the course of using her. They part and she drives back to Seoul. Jae Hee goes to bargain with the Chairman but he suffers a heart attack and dies. She wanted to call for help but lawyer Ahn stops her. Joon Ha calls Eun Gi to tell her that her dad has died. Eun Gi makes a U-turn and she and Maru's car drive towards each other in a tunnel.
After the car accident, an unknown period of time has passed. Eun Gi has lost her memory and has to re-learn some cognitive functions such as reading and math. Her personality is also very gentle and calm. Her company secretary has been taking care of her, and her condition is kept a secret from the public so she won't get kicked out of Tae San. Eun Gi is visiting Maru because she saw a picture of them together and thinks he's someone important to her in the past. Maru is cold and cruel towards her, telling her they are nothing to each other and merely took a picture together. Eun Gi walks through the courtyard and the house, hoping things here will help jar her memory.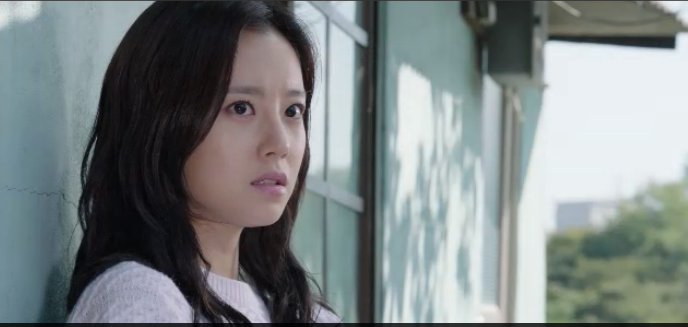 Jae Hee, looking stunning with her new short hair, but clearly still a viper. Jae Hee is now head of Tae San Group, and is wondering if her lackey lawyer Ahn can help her find a way to remove Eun Gi from the company permanently.
Now even Jae Gil looks pissed with Maru. Turns out Choco moved out and cut off all use of funds from her brother. She's not taking another penny from him, not after he goes from selling himself to being a financial swindler.
I hope this drama doesn't jump the shark. I'm being sincere and not snarky, because I really don't know how the amnesia twist will all shake out. Will it derail what has been a taut building narrative? Will it breathe new life into the story when the original arc couldn't be sustained for much longer? Will even more hot and much-less-nice Maru and memory-less Eun Gi be as combustible together? Can Koala get some love story shippiness between the OTP before the Lee Kyung Hee mallet of doom descends once again? So many questions, so few answers. All I can do is hope for the best and be patient.
[Credit: all screencaps from DC Nice Guy Gallery]