There is a new drama rocketing up the addiction chart for me, and luckily it's arrived just in time to swoop in and exchange out a drama I've just pulled the plug on because it's official DOA. Weekends is the land of weekend makjang fare and occasionally one or two a year will rope me in for the long haul. May Queen last year fit the bill for me, and this year I thought I Summon You, Gold would be an equally entertaining and frustrating watch. I've had to call it quits with ISYG because it's just batshit stupid now without even one couple worth rooting for. I've been quietly following along with Scandal: That Very Shocking and Immoral Incident for the last few weeks and finally with today's episode 7 I felt like the light bulb switched on for me. The first 6 episodes felt like a complete re-make of East of Eden except with a smaller cast and set in modern times. Recall EoE being this sprawling period epic with two boys switched at birth, so Scandal seemed strangely like a baby brother of EoE that just showed up out of nowhere. We have the Big Bad corporate greedbag in EoE played by Jo Min Ki complete with shocking white hair after the time jump, and here we have the Big Bad corporate greedbag played by Park Sung Min complete with shocking white hair after the time jump. Both also subscribe to the over-act like your paycheck depends on it methodology. It's truly amusing to watch, especially knowing what great actors they can be when they are asked to actually act properly. So Scandal deals with the story of how the Big Bad causes the death of the only son of a police officer played by the marvelous Jo Jae Hyun, who goes to kill the guy after he can't get any justice, and ends up somehow abducting the Big Bad's son. Suffice to say, he wrestles with his conscience but in the end raises the boys and manages to convince the authorities that he had nothing to do with the kidnapping after the Big Bad points fingers at him. It's kinda like karma, except Big Bad's wife played by Shin Eun Kyung is devastated that she lost her son. The son grows up to be Kim Jae Won as a cop, and it's really the best character I've seen him play in years. I love the male lead in this drama, and with him as the focal point this whole story has heart and stakes. Plus the OST for this drama is crazy addicting and so so good. And with the ending of episode 7, I am so totally onboard the OTP ship it's not even funny. When the male lead has to tell the female lead that the man she was planning to marry that very day, and the father of her unborn baby, is dead…..well that is some stakes and oomph right there.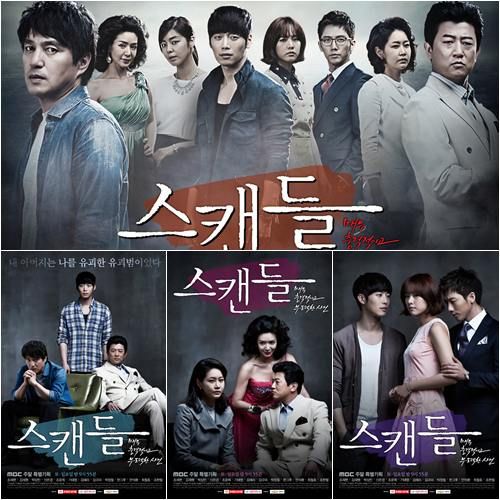 Just watch below to catch up on the first 5 episodes of the backstory, and then you can dive in starting episode 6 and skip all the heavy makjang set up. It's compelling stuff but can be too pot-boiled. I loved it since I initially watched this show because of my love of Jo Jae Hyun's grounded and raw acting and he was truly mind-blowing in the first few episodes.
A video montage of what happened surrounding the kidnapping (start at the 11:40 mark):
Ha Myung Geun (Jo Jae Hyun) is a single father and police officer with a son in kindergarten. One day they are at a department store which suddenly collapses due to the shoddy construction by the owner Jang Tae Ha (Park Sang Min). The son dies and Myung Geun is devastated. He learns that Tae Ha is going to get away with it because of falsifying evidence and goes to his house to kill him. But Tae Ha has his own messy backstory – he lives apart from his legal wife Yoon Hwa Young (Shin Eun Kyung) and has a mistress Go Joo Ran (Kim Hye Ri) on the side. Joo Ran is ready to displace Hwa Young by going public with a daughter Joo Ha that she had with Tae Ha. But Hwa Young has a secret, which is that she actually gave birth to and is raising Tae Ha's son Jang Eun Joong. On the night that Hwa Young brings Eun Joong to see Tae Ha, Myung Geun arrives at the house. Little Eun Joong mistakes him for his father and Myung Geun in the spur of the moment takes Eun Joong away. Tae Ha is furious to lose his only son while Hwa Young is devastated by the kidnapping of Eun Joong. Myung Geun considers giving Eun Joong back after he realizes what he did, but Tae Ha's unrepentant attitude for the death of Myung Geun's son leads Myung Geun to decide to keep Eun Joong. In his mind, he is living in a nightmare that Tae Ha created, therefore Tae Ha shall live in a nightmare that Myung Geun created.
A few years pass and Tae Ha brings Joo Ran into the house and raises Joo Ha like a boy. Hwa Young does not give up and keeps searching for Eun Joong. She finds a boy in the orphanage and brings him home as Eun Joong otherwise Tae Ha would divorce her and marry Joo Ran. A DNA test is conducted that Hwa Young manages to do a bait-and-switch with the real Eun Joong's DNA so it passes and Tae Ha believes the real Eun Joong has been found, and only Hwa Young knows otherwise. Joo Ha is happy she doesn't have to live as a boy anymore. Myung Geun's conscience starts to eat at him in the ensuing years and he starts to lash out at Eun Joong, telling him to leave and not to call him dad. One day there is a construction accident that causes him to realize that he loves Eun Joong and therefore he will do right by him and take him back to his real rich family. When they arrive, real Eun Joong meet fake Eun Joong outside the house and Myung Geun realizes that for whatever reason there is now a "Eun Joong" with the Jang family. He leaves with his Eun Joong and finally his heart is free to love and raise this boy as his son henceforth. Then a time jump to 2013 where Ha Eun Joong (Kim Jae Won) has grown up to be a cop, Jang Eun Joong (Ki Tae Young) is a lawyer, and Jang Joo Ha (Kim Kyu Ri) works for the family company, and Daddy Myung Geun has quit being a cop and is now a construction foreman.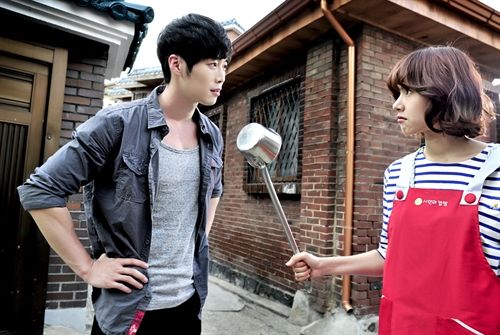 This is a drama where romance is really ancillary to the central narrative, though I'm feeling this strong sense that when it does happen with the OTP it'll be really well worth it. What I'm enjoying is how the elders are putting it all on the line. Kim Hye Ri is deliciously batty and Park Sang Min's over-acting has this veneer of control, like he's doing it on purpose because that's how he interprets the character of Jang Tae Hae. But it's Shin Eun Kyung and Jo Jae Hyun that are on course for year end awards if they keep up the incredible displays of emotion and restraint that they are delivering so far. But once the transition happened and the adults showed up, I was surprised by how much I love the character of Ha Eun Joong and the performance by Kim Jae Won. I'm not his fangirl and usually find him too mealy for my tastes, but here he's quite arresting and has this silent simmer that I love.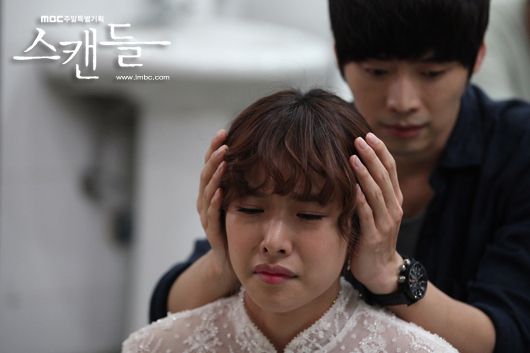 Jo Yoon Hee plays Woo Ah Mi, who Eun Joong first meets when he knocks over her stand when he's chasing a bad guy. Ah Mi is a few months pregnant and about to marry her fiancee, who happens to work at the same construction project as Myung Geun and is his protegee. The fiancee finds out some wrongdoing and confronts Jang Tae Ha, who is still super evil and the fiancee ends up dead on the day of the wedding to Ah Mi. Eun Joong therefore finds himself investigating the death and gets tied up with the Jang family and Ah Mi. Hwa Young has been looking for the real Eun Joong despite having fake Eun Joong around, and she got a composite sketch of what he would look like now at 30 years old and the sketch shows that it's exactly what Ha Eun Joong looks like. So this secret is probably coming out sooner than later, but then what happens? I looking forward to finding out. I really love the first OST song from this drama Position's "Last Love of My Life". Listen and download below.
Scandal OST Part 1 – Position "Last Love of My Life":
https://www.youtube.com/watch?v=cwvDeIpTdsg
Click here to download on Mediafire.