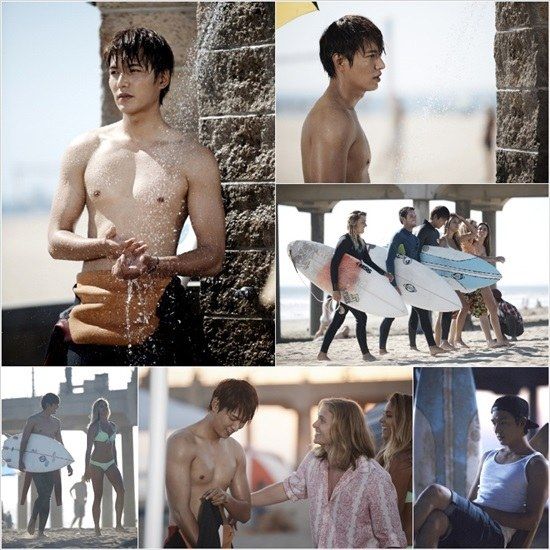 I think Kim Eun Sook is a tiny bit disingenuous to be annoyed with the questions lobbed at her about how Heirs or The Inheritors seems at first blush quite similar to the extremely popular and well-known Hana Yori Dango franchise. Its true that the general premise of a poor kid in an uber-rich kids high school doesn't belong to anyone and I've seen so many in manga (HanaDan, Ouran High School Host Club), television shows (Beverly Hills 90210, Malibu Shores, Gossip Girl), and movies (Pretty in Pink) that it's not for the freshness quotient that people are going to tune into Heirs. Kim Eun Sook must be ready for the inevitable questions about how she's going to do something different with this trope. I actually think she can do it since her oeuvre consists of adult romances so if she injects her usual mature verbal dexterity into Heirs that'll start to distinguish her attempt at teen romance. The drama press conference yesterday was a bit of a relief for me to get it done with and pleasant surprise there wasn't any gaping lapses in sartorial judgment. I totally forgot to mention in my post about the long preview that I'm completely in love with the costume design for the high school uniforms at Empire High. The blue and khaki is gorgeous and thumbs up for all the kids accessorizing and changing it up based on the courtyard confrontation scene. Earlier in the Summer I translated all the leaked character descriptions and the officials one came out this week and are mostly the same. I realized I forgot to translate Kim Tan's so I'm rectifying that now so enjoy learning more about rich lonely boy Kim Tan. Kim Eun Sook herself mentioned Gossip Girl as an influence and I'm seeing in Kim Tan's character construct a bit of Lonely Boy's incisive observation mashed with Blair Waldorf's smart alecky sass. SBS wasn't content to hold a high profile press conference for this drama right before its premiere, the network is apparently not done with dropping even more drama goodies. These latest stills are of Lee Min Ho's Kim Tan surfing in Huntington Beach and looking quite chummy with the ladies on the beach. Lee Min Ho started practicing his surfing early on before the drama started filming and his hard work paid off because he looks quite comfortable with a board and on the waves. 
Kim Tan (18 years old):
England has its monarchy. South Korea has its chaebol groups.
The monarchy has its princes. The chaebol groups have its heirs.
Kim Tan is one of those chaebol heirs. He's the son of the Empire Group, the very chaebol group that has accompanied South Korea on every step of its industrialization and development.
A chaebol heir needs to have breeding, looks, height, and riches. All the things that is like winning life's lottery.
Having too much means that with it comes things one shouldn't have. One dad and two moms. A half-brother. The moniker of an illegitimate son. All those cold glances. A family filled with too many complicated and messy matters. All of this was placed before Kim Tan. A huge empty house without a shred of familiar warmth. And so Tan became difficult.
He used corporate wealth to rank his friends, those outside the ranks he ostracized. He used arrogance and attitude to shield himself, if he met someone weaker he would be strong, if he met someone strong he would be even stronger. Not a day went by that he wasn't causing trouble wherever he went. The adults battle became the kids battle and no one was willing to be the enemy of the Empire Group. Tan knew this and saw this as his power. Just as his runaway train youth was about to derail, his older brother Kim Won was about to break his own ground.
His brother's resume listed many prestigious schools and degrees. Their father was sick in bed and like the natural changing of the seasons, Kim Won took over the actual running of the company and the CEO position and now has his own power. It was then that Tan realized the real prince was Kim Won. The real prince sent Tan to America to study, but in truth it was in exile.
In America, Tan felt at peace. There was nothing to get mad about, he smiled more, but it was only at night that he cried in the darkness. From 15 to 18 years old, the only friend by his side was loneliness. When he finally has a revelation, he wanted to go back to South Korea but he didn't have the courage. He believes that his presence will only add to his brother's unhappiness. He could't go back, but he didn't want to stay, and in this quagmire without an entrance or exit, he met a girl even more foreign than this distant land, Cha Eun Sang.
Click below to read the previously posted translated descriptions for the other main characters: