You guys want to watch Detective Dee: Rise of the Sea Dragon? I normally don't post full movie links here but this will be an exception because I haven't had so much fun watching a popcorn period C-movie in ages. Plus the eye candy! This Sherlock Holmes-meets-fantasy-Tang-dynasty blast has four hot and young leading men currently all the rage in many parts of Asia. The movie is led by Taiwanese actor Mark Chao, Golden Bell Best Actor winner and box office gold with Monga, Black & White: Dawn of the Assault, and Zhao Wei's first directorial debut smash So Young. He's the brains of this operation as Detective Dee, flanked by Feng Shao Feng as the brawns Yuchi Zhengjin and Lin Geng Xin as the skills playing medicine man Shatuo, then toss in Kim Bum as the mysterious hottie Yuan Zhen and Angelababy doing what she does best which is to look good on screen for the men to fawn over and gape at as the courtesan Yin Ruiji. A-list movie star Chen Kun makes a cameo appearance that is impossible to spot unless you know beforehand what role he is playing. This whole thing works and I liked this prequel even better than the original Detective Dee: Mystery of the Phantom Flame. Director Tsui Hark will never go back to the glory days and that's a pointless comparison. I simply liked that he put his heart into this one and it shows, even with the predictable story and the nonexistent characterization. All the actors were fine and did their jobs, and I thought this movie really stayed buoyant with the young cast chemistry. If you want to watch it, no need to wait for the official release – a clear and complete version is below with English and Chinese subs. I wasn't expecting this baby to be available so quickly so I happily enjoyed it this weekend and thought it so entertaining many folks here who love one or more of the leading men will surely be dying to watch it, too. This movie broke many box office records in China when it opened last week right before Golden Week, so it's a total success for the entire cast and crew.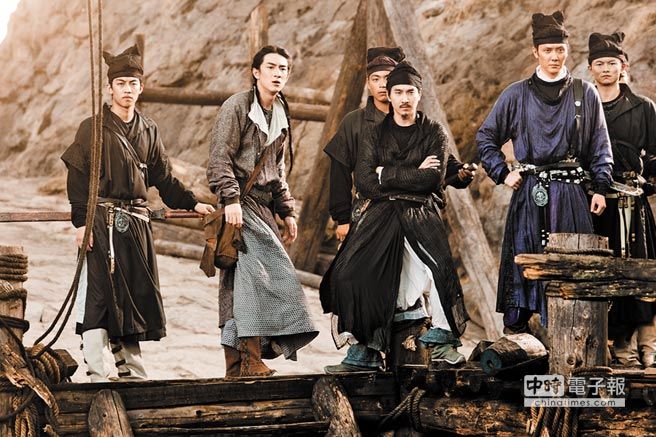 Detective Dee: Rise of the Sea Dragon:
[youtube id="G6mnpYbHxnI" w="650″ h="450″]
Have some cute bromance pictures of Mark and Lin Geng Xin at the Taiwan premiere for the movie. They are currently in Taiwan filming the Black & White movie sequel so it was perfect for them to promote the movie there.