I often wonder about serendipitous timing of news stories, either it's mostly manufactured or conveniently timed, or else shit really does happens in twos and threes. Hot on the heels of the We Got Married brouhaha last week around the Song Jae Rim–Kim So Eun couple when she poured cold water on the fandom by nixed the possibility of any real life romance developing, another WGM couple is in the middle of an even bigger situation this week. A tabloid newspaper has published the dating bombshell that model-actor Hong Jong Hyun is actually dating After School's Nana while still in the middle of a WGM virtual marriage with Girl's Day's Yura. Cue the WGM fandom screams of "how dare he!"
Both Hong Jong Hyun and Nana's respective agencies have swiftly denied the dating rumors but admitted the two are good friends in real life and open about it. WGM producers had to get involved this time and released a statement that all participants in WGM are required to sign a written oath not to be dating anyone else in real life during the filming because the show is about a virtual marriage and the participants are required to go into it with a sincere heart (their words, not mine). The production backed Hong Jong Hyun as signing the oath ergo he could not be dating Nana and therefore violate his written oath while still doing WGM with Yura. So there you have it, another scandal quelled while shedding more light on the WGM experience.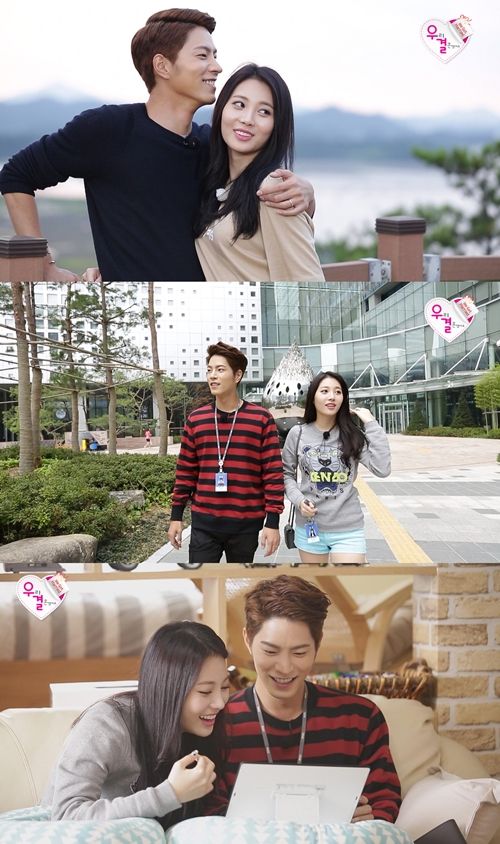 I figured the production of WGM required participants to agree to not publicly date someone else in real life while filming, otherwise why cast only openly single entertainers. If the show was pure drama with zero possibility, then cast married entertainers as well since it's just acting, right? The producers of WGM, in response to this latest Hong Jong Hyun dating tizzy, explained very clearly that the show requires participants to go into filming with a sincere and genuine effort to put on a virtual marriage. It doesn't require/demand/expect the pretend couple to fall in love for real, but it does preclude them from dating someone else during the filming and ruin the pretend marriage show facade.
This explanation sorta fits the whole Kim So Eun-Song Jae Rim discussion from last week – sure the show is make believe but there is an element of possibility that the production and cast intentionally dish out to the audience and that element of possible reel to real is what the whole point of the show is. I figured as much which is why the show isn't for me, but it's understandable for fans to get annoyed when participants get popular off doing the show but then don't play by the rules. Back to poor Hong Jong Hyun, possibly stuck between virtual waifu Yura (above) and publicly professed "good friend" Nana (below). At least this proves Hong Jong Hyun doesn't subscribe to Lee Min Ho's philosophy as Min Ho-sshi recently said in an interview that he doesn't believe men and women can be just platonic good friends.