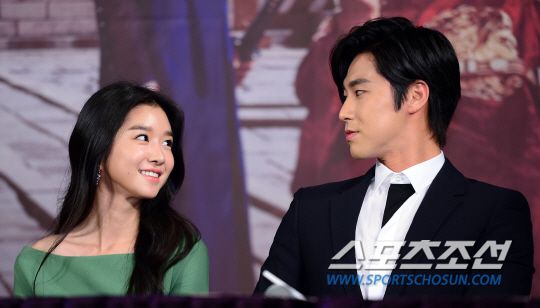 This is a fun little dating rumor to come out of drama land, of which we have to all admit has been royally lackluster lately in terms of quality or buzz. An insider on the MBC set of the fantasy sageuk Records of a Night Watchman has tipped off the press that a budding couple has emerged from filming together. Second leads Yunho of DBSK and young actress Seo Ye Ji have apparently developed good feelings for each other and are in the early stages of a dating relationship. The insider describes the couple as being open about their affections on set and the cast and crew all know about it. This is totally Moon Geun Young and Kim Bum on the set of Goddess of Fire all over again. Is there something in the water over at MBC?
It doesn't matter if Yunho and Seo Ye Ji go kaput much like Moon Geun Young and Kim Bum did after dating for a short while, I still think it's healthy and normal to meet someone in a working environment and grow fond of each other. Since neither are actors I follow I'm more curious what the Yunho and/or DBSK fandom will react to this dating news, which is the first time Yunho has been romantically linked to a costar if my recollection is correct. If it's true and he admits it, then he would be the first of the five original DBSK members to date openly. His other DBSK member Changmin has been romantically linked to Victoria of f(x) for years now but that's never been confirmed by either side so it's still just speculation. These two were really cute at the drama press conference so if this rumor is true then yay for them!
Having survived the first few episodes of RotW before I had to stop lest my brain exploded, I can safely say that Seo Ye Ji was the best actor in the lead foursome by a looooong mile. But I did also find Yunho vastly improved, though to be fair he was playing the stoic warrior that didn't require too much emoting. Improved is better than none, right?
[Update] Both agencies have just coordinated their responses say the couple is not dating. Seo Ye Ji's agency says they are really close oppa-dongsaeng and Yunho takes care of her. SM Entertainment kept it tidy with a rebuttal that the two are merely colleagues working well on the drama together.