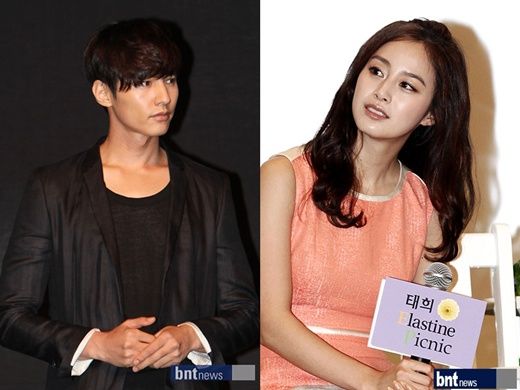 Take this news with a huge grain of salt. Or do as I do, since I'll believe it only when I see the contracts signed, which might be when pigs fly when it comes to this particular leading man. K-news outlets are reporting that Won Bin, who is as elusive to television for the last twelve years as penguins are to the tropics (that last time he was on, men had mullets and wore hammer pants) has received the script for Noh Hee Kyung's upcoming drama and is considering the project. It might take a screenwriter of Noh Hee Kyung's caliber to lure this notoriously finicky guy out of his years between any projects predilection.
Word on the street is that Kim Tae Hee may be the leading lady opposite him, since the PD for the drama will be Noh Hee Kyung's longtime collaborator Kim Kyu Tae, who worked with Kim Tae Hee on IRIS and would like for her to play the lead. Neither star is confirmed, but the mere possibility is enough to get all the news outlets all excited. I'm more of a fan of Noh Hee Kyung than I am of either Won Bin or Kim Tae Hee, but they would make a ridiculously gorgeous coupling onscreen, and if this turns out to be true, wouldn't be the first time they worked together. They did a series of Cyon cell phone CFs back in 2006, which were really cute.
Won Bin was rocking the Kim Nam Gil pornstache back in 2006 (but since it was earlier than when Kim Nam Gil was rocking it back in 2010, perhaps it should be referred to the other way around?), and had a dubious haircut, but other than that, he was really entertaining in these CFs with an always charming Kim Tae Hee. If anything, watching these CFs is a glaring reminder of how quickly cell phone technology has evolved in the span of 6 years. To think that in another 6 years, the IPhone and Galaxy would be considered obsolete antiques.
Won Bin and Kim Tae Hee for Cyon CF 2006: