The 2015 TV Report drama actors and actress power list is out, an annual survey the publication has done since 2013. The survey is compiled by the vote of the Korean drama industry's top 30 PDs at the main three networks SBS, KBS, and MBC along with 10 producers at the top production companies, for a total vote by forty of the drama industry's most powerful behind-the-scenes head honchos. These industry insiders picked the actors and actresses they most want to star in a drama, with the explanations for the choices a combination of the star being able to bring in the ratings, the acting talent, and how the star is hardworking and positive to work with. For the second year in a row, the You From Another Star leads Jeon Ji Hyun and Kim Soo Hyun take the number one spots for their respective genders, with Ha Ji Won coming in second for the actresses and Kim Woo Bin in second place for the actors. Check out the drama power rankings below and see if your faves are currently sought after by drama honchos.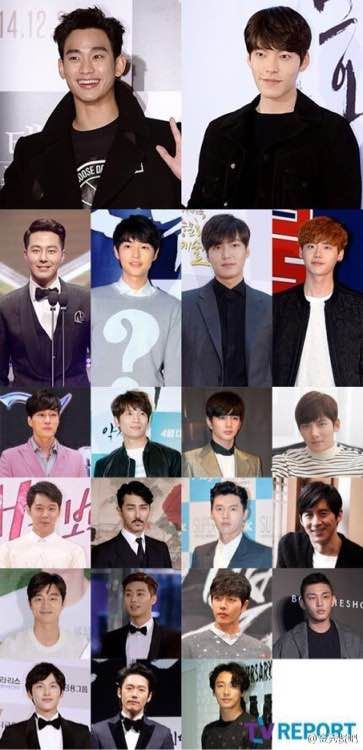 Drama Actors Power List (number in brackets is number of voter picks)
Kim Soo Hyun (34)
Kim Woo Bin (15)
Jo In Sung (12)
Song Joong Ki, Lee Min Ho (9)
Lee Jong Seok (7)
So Ji Sub (4)
Ji Sung (3)
Yoochun、Yoo Seung Ho、Ji Chang Wook 、Cha Seung Won 、Hyun Bin (2)
Go Soo、Gong Yoo、Park Seo Joon、Park Hae Jin、Yoo Ah In、Im Shi Wan、Jang Hyuk, Joo Ji Hoon(1)
Drama Actress Power List (number in brackets is number of voter picks):
Jeon Ji Hyun (23)
Ha Ji Won (12)
Bae Suzy (9)
Gong Hyo Jin 、Song Hye Kyo (8)
Park Shin Hye (4)
Moon Chae Won、Su Ae 、Han Hyo Joo (3)
Kim Nam Joo、Son Ye Jin、Shin Mina、Lee Bo Young、Lee Young Ae、Jang Nara、Han Ye Seul、Hwang Jung Eum (1)

Above is the comparison of the 2013 to 2014 rankings, to give an understanding of how the most sought after drama actors and actresses have changed in the last few years. It's startling how far Lee Byung Hun has fallen out of favor, from being number 1 in 2013 to number 2 in 2014 to not even on the list at all this year. Among the ladies it appears to be a one-two switching of spots between Jeon Ji Hyun and Ha Ji Won. Off the top of my head, some notable big name drama stars who aren't on this year's power rankings include Yoon Eun Hye, Moon Geun Young, Go Hyung Jung, Lee Seung Gi, Lee Jun Ki, any of which could make the rankings next year with one hit drama this year to get back on the drama buzz wagon.