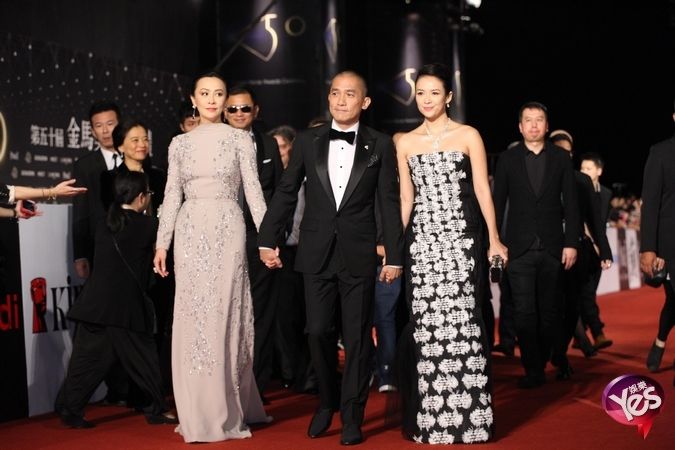 Two major Asian film awards took place this weekend, there was the Blue Dragon Film Awards celebrating Korean cinema held in Seoul, and further South in Taipei the annual Golden Horse Film Awards feted the Chinese-language movies of 2013. It was the 50th anniversary of the famed Golden Horse Awards and this was a ceremony that had more big name presenters than even the nominees. This year's Chairman was Ang Lee, undisputably the most famous Chinese filmmaker in the world, and he brought as a date and presenter the long-retired but glorious TW-actress Brigitte Lin. The biggest name nominee going into the ceremony was Wang Kar Wai's The Grandmaster starring Tony Leung, Zhang Zi Yi, and Song Hye Kyo, with the first two garnering nominations for Best Actor and Best Actress respectively as well as the movie getting a Best Film nod. Zhang Zi Yi had been nominated three times before but the fourth time was the charm for her as she won over other powerhouse actresses like Gwei Lun Mei and Shu Qi.
Tony didn't manage to bag his fourth win (previous Best Actor wins including Chungking Express, Lust, Caution, and Infernal Affairs), losing out to Lee Kang-sheng for Stray Dogs, but walked the red carpet with co-star Zhang Ziyi and actress wifey Carina Lau. This was one of the most star-studded Golden Horse Awards in recent memory and the red carpet was a resounding win with starlets going for all colors of the rainbow as well as cuts, fabric and styles. I also love how the plastic surgery craze up in Korea hasn't hit the Chinese-speaking entertainment industry as hard, so we have older A-list actresses that still look like their young beautiful selves but with happy wrinkles and lots of charisma and confidence. My favorite dress was Shu Qi's risque stunner that she pulled off with confidence, but I thought the most gorgeous was Zhao Wei with her flowing locks and perfect makeup paired with an unexpected stylish black pant ensemble. Check out the winners list below and the red carpet pics. While The Grandmaster took home the Audience Choice Award, a small Singaporean movie Ilo Ilo beat the odds and won Best Picture.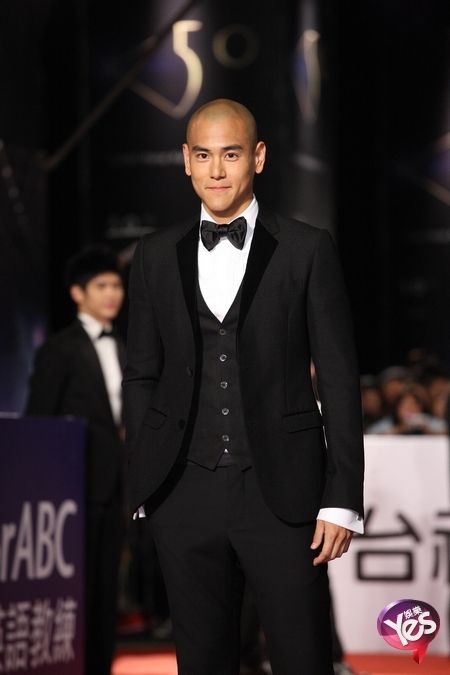 Eddie Peng. He must have shaved his head for a period drama or movie but he's looking mighty fine here.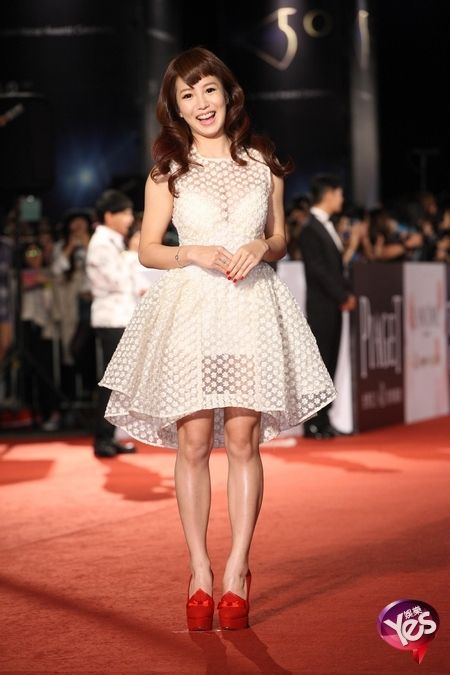 Guo Shu Yao. She won for Best New Actress and capitalized on her youth with an asymmetrical hem white lace overlay short dress and sky-high red pumps.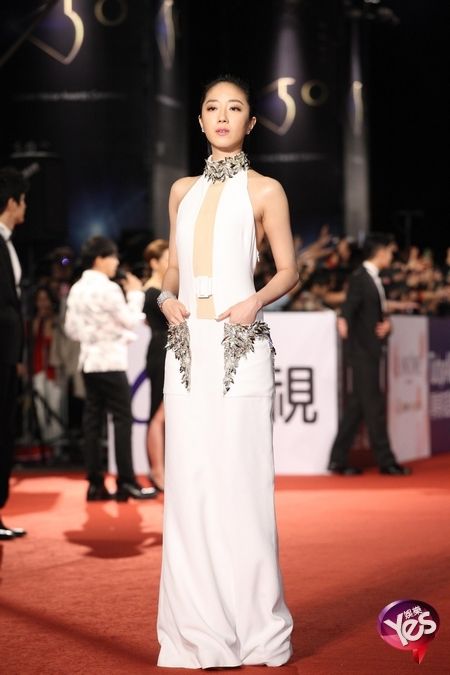 Gwui Lun Mei. This is a stunning dress that is eye-catching and she absolutely owns it.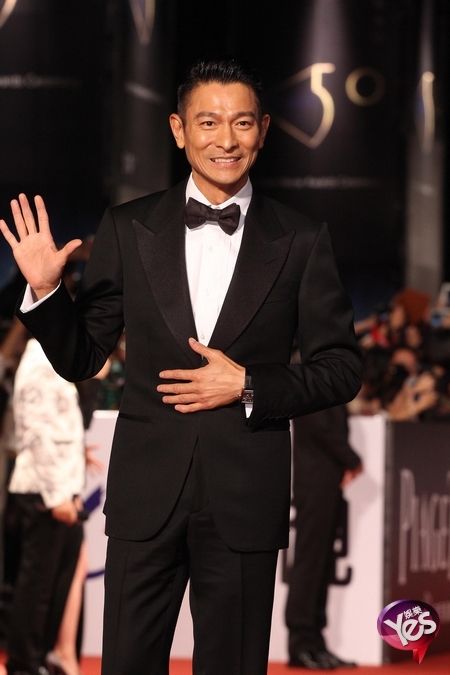 Andy Lau. He could not possibly look any better with the perfect tux and a dashing smile.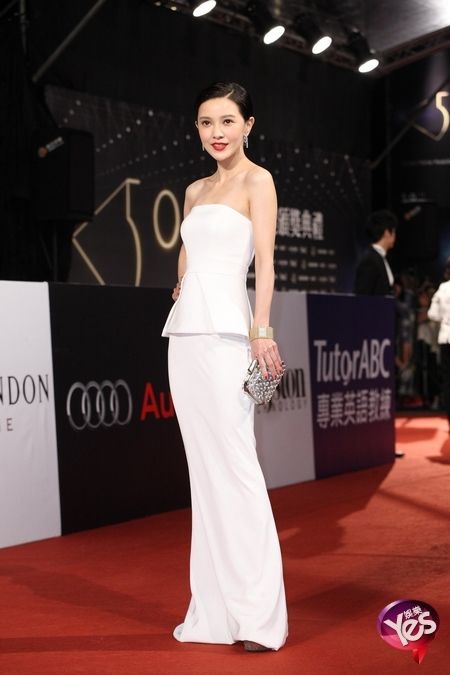 Amber Kuo. I'm shocked that she can look this good on the red carpet for once and not with either a weird pout or overly exaggerated pose. The dress is cut perfectly.
Li Bing Bing and Rene Liu. Neither dress is all that fantastic but these ladies shine with their charisma and talent.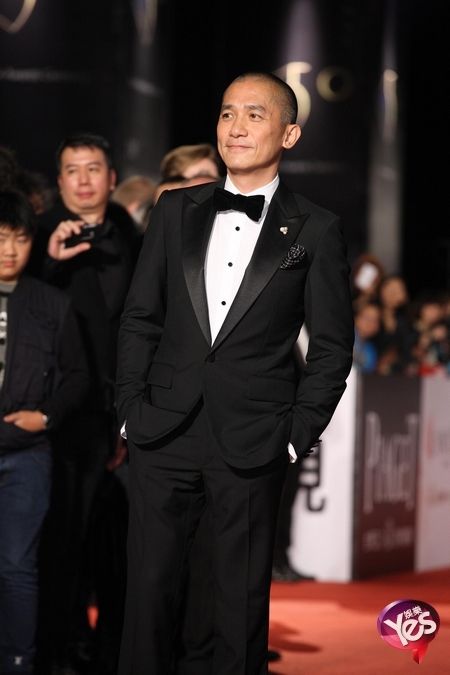 Tony Leung. He is definitely the top Chinese actor of his generation, bar none.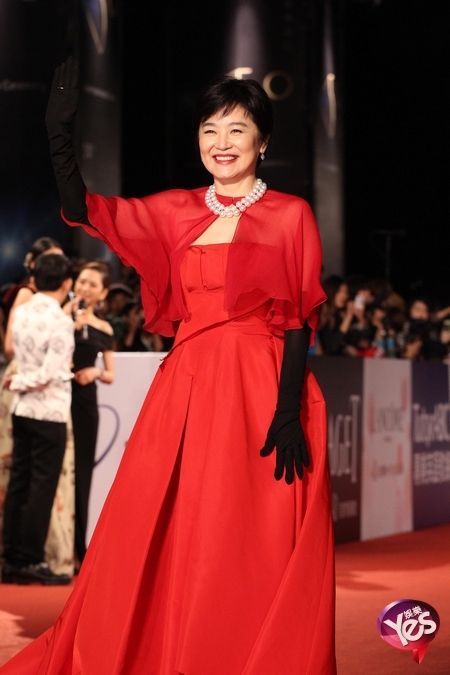 Brigitte Lin and Ang Lee. I love how Brigitte dressed so suitably for the occasion and still brings her star power even if she's no longer the bombshell of her youth. She can totally age into being the Helen Mirren of Asia.
Zhang Zi Yi. Did not like this dress at all, but Zhang Zi Yi always is more beautiful than any dress she could possibly wear.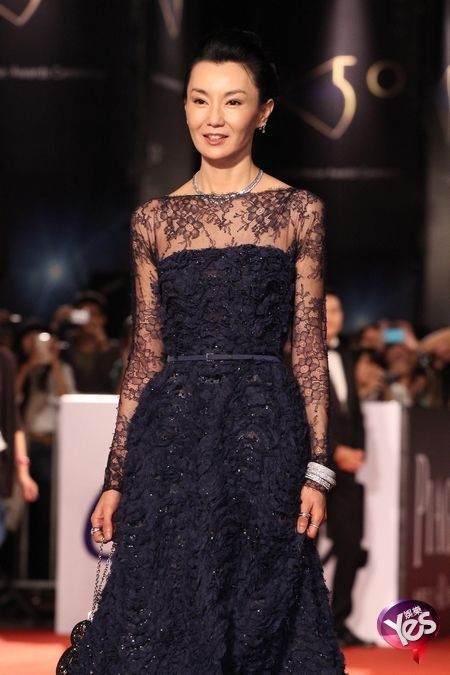 Maggie Cheung. Stunning dress and a stunning lady.
Shu Qi. Sexy and provocative without being trashy. I love it!
Zhao Wei. She's drop-dead gorgeous. That is all. I would kill for her hair.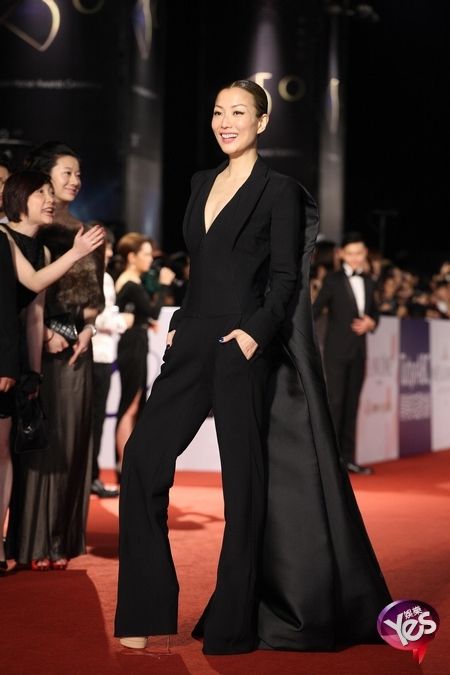 Sammi Cheng. This is interesting, though I feel like she's got a support beam on the back propping her up.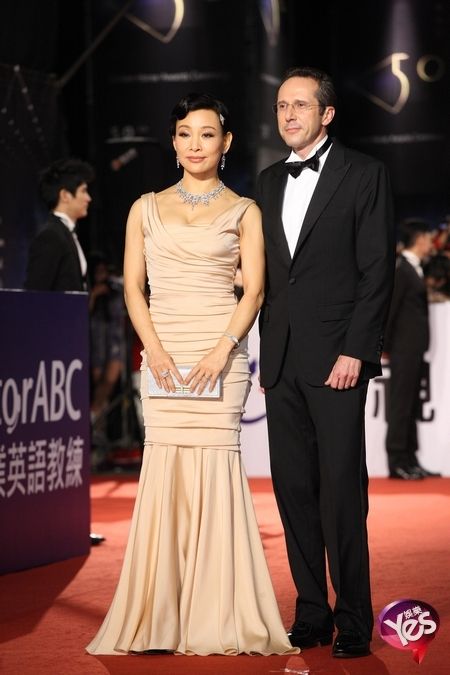 Joan Chen. Lovely dress that accentuates her figure and classiness.
Ethan Ruan. Button your tux, Ethan. Other than that, you're handsome and you know it.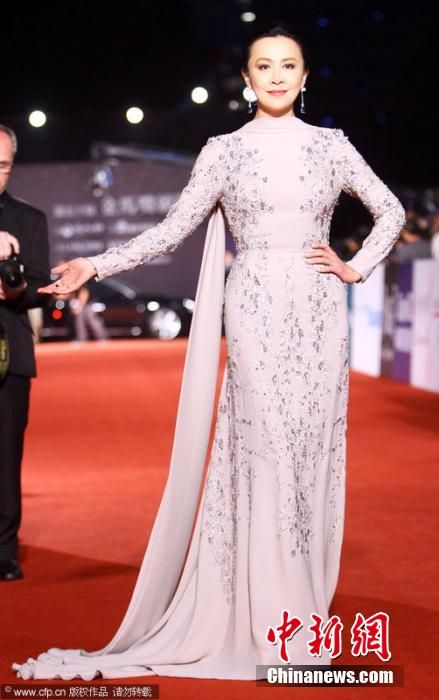 Carina Lau. She looks like a modern Empress posing for her subjects.
Sonia Sui. Love how she's beaming and very alluring without any danger of slippage.
Aaron Kwok. My god, does Aaron use the same spray tan as Louis Koo? And Donald Trump? His tux is wonderfully fitted but I can't get past his unnatural skin color.
Carol Cheng. Love love love the dress, but it is a wee bit too young and cute for Carol's age.
Jackie Chan. He's da man and he knows it. Wore his pajamas to the ceremony and makes it work.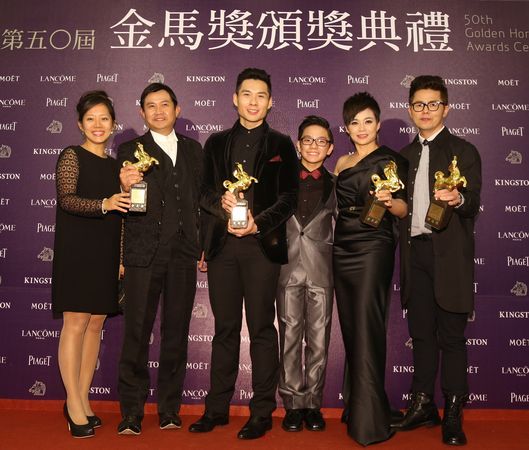 Best Picture

Drug War (China/Hong Kong)
The Grandmaster (Hong Kong/China)
Ilo Ilo (Singapore)
Stray Dogs (Taiwan)
A Touch of Sin (China/Japan)
Best Director

Chung Mong Hong, Soul
Jia Zhangke, Touch of Sin
Johnnie To, Drug War
Tsai Ming Liang, Stray Dogs
Wong Kar Wai, The Grandmaster
Best Debut Director

Anthony Chen, Ilo Ilo
Hsu Chao Jen, Together
Longman Leung, Sunny Luk, Cold War
Juno Mak, Rigor Mortis
Zhao Wei, So Young
Best Leading Actor

Nick Cheung, Unbeatable
Lee Kang Sheng, Stray Dogs
Tony Leung Chiu Wai, The Grandmaster
Tony Leung Ka Fai, Cold War
Jimmy Wang, Soul
Best Leading Actress

Sammi Cheng, Blind Detective
Gwei Lun Mei, Christmas Rose
Cherry Ngan, The Way We Dance
Shu Qi, Journey to the West: Conquering the Demons
Zhang Ziyi, The Grandmaster
Best Supporting Actor

Chen Tian Wen, Ilo Ilo
Huang Bo, Journey to the West: Conquering the Demons
Li Xuejian, Back to 1942
Eddie Peng, Unbeatable
Tong Dawei, American Dreams in China
Best Supporting Actress

Crystal Lee, Unbeatable
Lin Mei Hsiu, To My Dear Granny
Susan Shaw, Tales from the Dark Part 1
Xue Hong, Longing for the Rain
Yeo
Yeo Yann Yann, Ilo Ilo
Best New Performer

Dong Zijian, Young Style
Huang Shao-yang, Together
Koh Jia Ler, Ilo Ilo
Guo Shu Yao, Step Back to Glory
Yang Liang-yu, A Time in Quchi
Best Original Screenplay

Anthony Chen, Ilo Ilo
Robert Chou, Zhang Ji, Aubrey Lam, American Dreams in China
Arthur Chu, To My Dear Granny
Jia Zhangke, A Touch of Sin
Wai Ka-fai, Yau Nai Hoi, Ryker Chan, Yu Xi, Drug War
Best Adapted Screenplay

Stephen Chow, Derek Kwok, Journey to the West: Conquering the Demons
Li Qiang, So Young
Liu Zhenyun, Back to 1942
Best Cinematography
Nagao Nakashima, Soul
Lu Yue, Back to 1942
Yu Like Wai, A Touch of Sin
Philippe Le Sourd, The Grandmaster
Liao Pen Jung, Shong Won Chong, Lu Qing Xin, Stray Dogs
Best Documentary
Boundary Revelation, Ibak Image Studio
Pusu Qhuni, ARS Film Production
Bridge Over Troubled Water, Backstage Studio Co.
Beyond Beauty, Taiwan From Above, Taiwan Aerial Imaging
Audience Choice Award
The Grandmaster
Outstanding Taiwanese Filmmaker of the Year

Yeh Ju Feng
Liao Ching-Song
Tsai Ming Hsiu
Lifetime Achievement Award
Chen Chen