With winter wrapping up, spring-like warm weather is a-coming and so are two new prime time K-dramas. To save me the hassle of doing separate posts on them, MBC's upcoming 50-episode long sageuk Splendid Politics (Hwajung) held its first cast script reading on the same week as SBS's trendy The Girl Who Sees Smells (formerly known as Sensory Couple but the network has elected to go back to the original title). Not sure if other viewers out there are looking forward to both like me, with each potentially satisfying a different drama-watching urge of mine.
The Girl Who Sees Smells has a huge uphill battle to fight, what with lead in drama Hyde, Jekyll, Me being such an unmitigated failure on all fronts not named Hyun Bin. I'm going to hold off on dismissing leading lady Shin Se Kyung right off the bat, instead giving this drama at least two episodes to see if she's improved and has good chemistry with leading man Yoochun. I also adore both second leads in Namgong Min and Yoon Jin Seo, not to mention there is a guest-starring appearance by the growing up nicely Kim So Hyun. All in all, there is hope this smelly girl might not stink up the joint.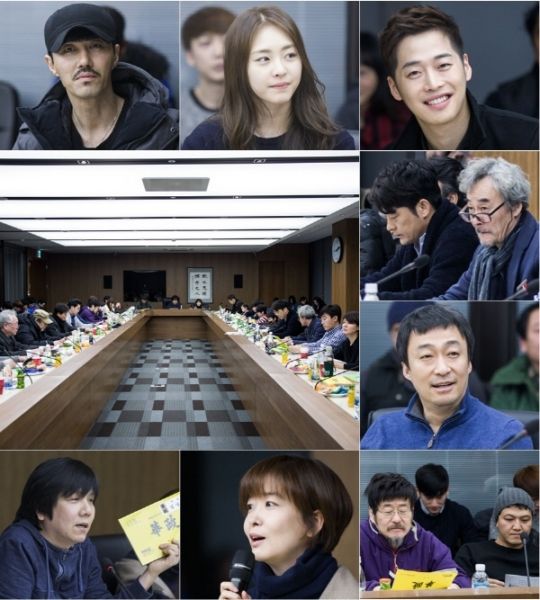 It's funny how the script reading for The Girl Who Sees Smells looks all intimate and casual roundtable affair, whereas the script reading for Splendid Politics appears right out of an intense corporate board meeting powwow. MBC probably had to find the largest conference room available to fit in the humongous cast for this epic tale of Joseon royal power struggle. All three leads Cha Seung Won, Lee Yeon Hee, and Kim Jae Won are looking ready for action, and hopefully have gotten enough rest in the last 6 months to compensate for the limited rest they are signing on for in the next 6 months. It's a relief to see Lee Sung Min here since he was missing from the press release picture last week of the full cast, he just makes anything better.