After yesterday's slap upside the head with the casting of Yunho alongside Jung Il Woo in the upcoming supernatural sageuk Records of a Night Watchman, today MBC goes all out and finalizes the leading cast perhaps to keep the shrieks of "noooooo" going until the wailing ceases because everyone is exhausted. Yunho is a done deal so either watch or don't, that's my approach and has served me well in my drama journey. Joining the aforementioned two guys will not only be Go Sung Hee as the female lead, the fourth and final member of the night watch has been gender swapped into a girl and MBC has cast super duper newbie Seo Ye Ji to round out the team. If folks thought Go Sung Hee is a fresh faced ingenue without a lot of works under her belt having done only Miss Korea along with small parts in two movies, Seo Ye Ji one-ups her having only one acting experience and that was in last year's cable sitcom Potato Star 2013QR3. That means this drama is going to rest on Jung Il Woo to carry along one of the worst idol-actors of his generation in Yunho not to mention two relatively inexperienced leading ladies who not only have few acting gigs not to mention zero sageuk experience. I liked Go Sung Hee in Miss Korea but she was definitely still raw in there. That's not to say she's not going to do just fine here but I don't have a lot to go on in making the hopeful assumption that she can hack it in a sageuk. The same is even more true of Seo Ye Ji, but the upside of having two relatively unknown and untried leading ladies is the lack of expectation and a higher potential to pleasantly surprise us all. Night Watchman will follow Triangle on Mon-Tues and premiere in July.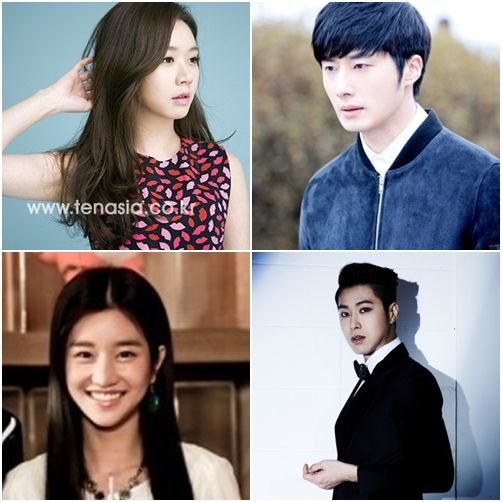 With two leading ladies, that does decrease the chance of the drama forcing a hopeless love triangle in the mix. I'm assuming the pairings will be Jung Il Woo-Go Sung Hee and Yunho-Seo Ye Ji. Poor Seo Ye Ji, I hope Yunho fans will go easy on her and just be happy their guy gets a love interest of his own rather than pine pathetically for the leading lady. At least I hope this is what the scriptwriter has in store.
Looks-wise the two leading ladies are fresh and easy-on-the eyes. I mostly approve of the collective pretty in this drama even though I never have and still don't find Yunho attractive in any way. I've heard his fans claim he's cute but my eyes tell me errrr, no on on that assertion.