Alright, that was much better. Still not good, but the slight uptick gives me hope. Even though I was quite disappointed in episode 1 of 49 Days, and not terribly impressed with episode 2 as well even though it wasn't nearly as dull, I have this niggling feeling in my gut that this drama is going to keep getting better.
Perhaps I'm projecting my hopes, but I'm rather in the mood to take a leap of faith. With that said, I better bring a quick recap of episodes 1 and 2 to set myself up for next week. This is more screencap heavy than my usual recaps, since I find most of the scenes and conversations in the first two episodes to be rather forgettable and purely for set up purposes. Fingers-crossed that next week this drama will take off and never look back.
Episodes 1-2 Recap: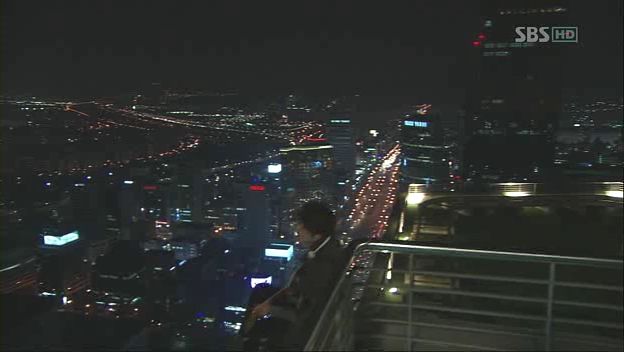 Jung Il Woo (perfectly cast as the Scheduler) sits on a rooftop and plays the guitar – logic and whether this scene serves any plot purpose matters not, as it's just cool and he's hot to look at on top of a roof.
Whiny entitled princess Nam Gyu Ri (playing Shin Ji Hyun) is running late for her engagement party. Her best friend Seo Ji Hye (who plays Shin In Jung) helps get her there in time to get herself engaged to Bae Soo Bin (Min Ho).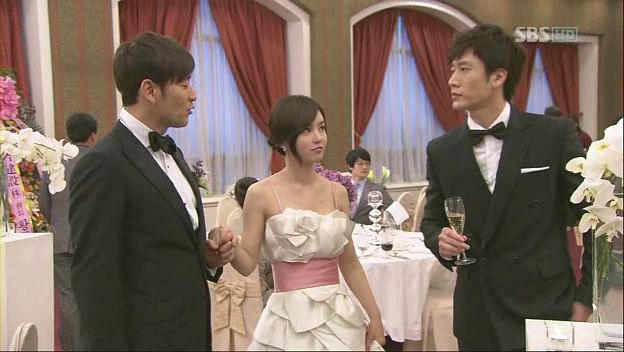 The future groom's best friend Jo Hyun Jae (who plays the adorably-named Han Kang) doesn't much like Ji Hyun outwardly, but inwardly probably likes her a little too much.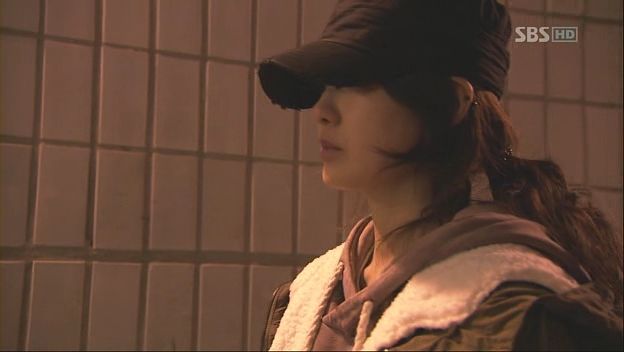 Lee Yo Won (who plays Song Yi Kyung) is acting out a life straight out of the Living Dead movies – she's alive on the outside but dead on the inside.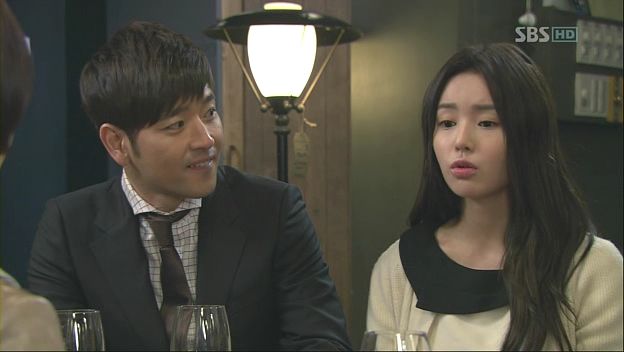 Turns out Min Ho saved Ji Hyun from an hiking incident where she got lost, and their love blossomed from that fateful meeting.
Min Ho works for Ji Hyun's dad, as does In Jung. Hhhhm, your fiancée and your best friend working in close proximity, always a recipe for naughty times ahead.
Yi Kyung brings flowers to a busy street, and then steps in front of an oncoming truck and tries to kill herself. She's saved by a dude, but tens of cars are not so lucky. Neither is Ji Hyun, who swerves herself right into a truck and she shoots out the front windshield. Ouch.
Ji Hyun's in a coma, but her spirit wanders around confused and scared, until she runs into the hot Scheduler. Instead of asking him to take her away and live with her forever, she wants a chance to get back into her mortal life, because she wasn't supposed to die.
Scheduler takes her to Yi Kyung, and tells her that she can borrow Yi Kyung's body for 49 days in order to collect three pure tears of sorrow from three non-family members in order to resurrect herself.
Ji Hyun toddles off to possess Yi Kyung's body, and voila, the drama introduces us to Ji Kyung (Lee Yo Won acting as Nam Gyu Ri's character).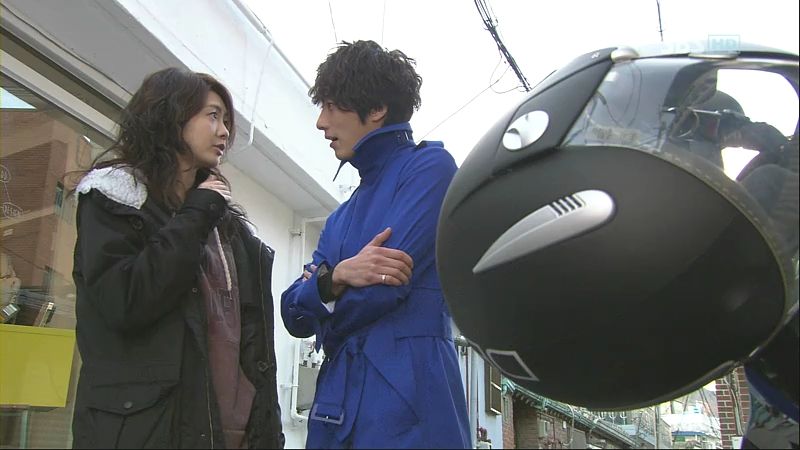 Ji Kyung is warned by Scheduler that she cannot reveal her true identity, she has to return the body everyday by midnight each night, and she cannot let any harm come to Yi Kyung while she possesses her body. Ji Kyung is given some money and a cell phone from Scheduler, who she can contact only in an emergency.
Ji Kyung runs off to find her friends, thinking it's pretty easy to collect those three pure tears. In Jung is crying but we don't see the color of the tears (only white is pure, any other color and the tears are motivated by ulterior feelings). Min Ho appears distraught but doesn't cry.
Ji Kyung goes to see Han Kang, who was her high school classmate and she saved him from bullies. Since she needs to earn money and get Han Kang to cry for her, she gets a job at his restaurant/wine bar. Han Kang notices that Ji Kyung has the same nervous finger tic that Ji Hyun has, so feels a bit sorry for her.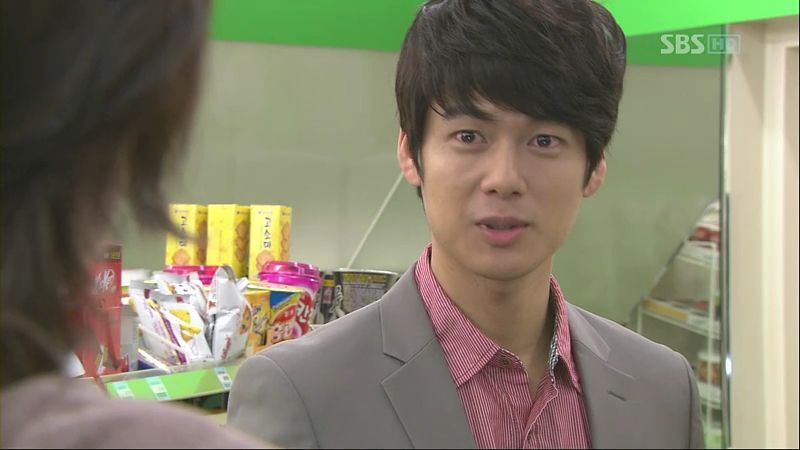 Yi Kyung works the night shift at the convenience store, and a man regularly comes by to buy something and chat with her. He is also the person who saved her from becoming road kill in episode 1.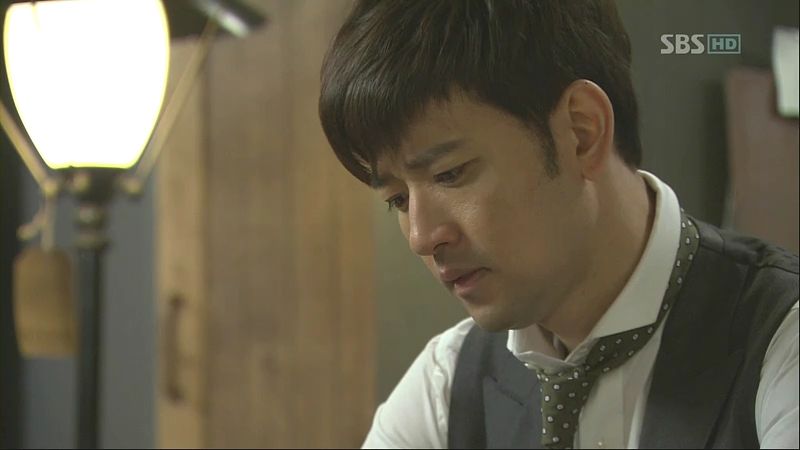 Min Ho comes to see Han Kang and gets wasted, and Ji Kyung can't help wanting to comfort her fiancée even though technically she is a stranger to him.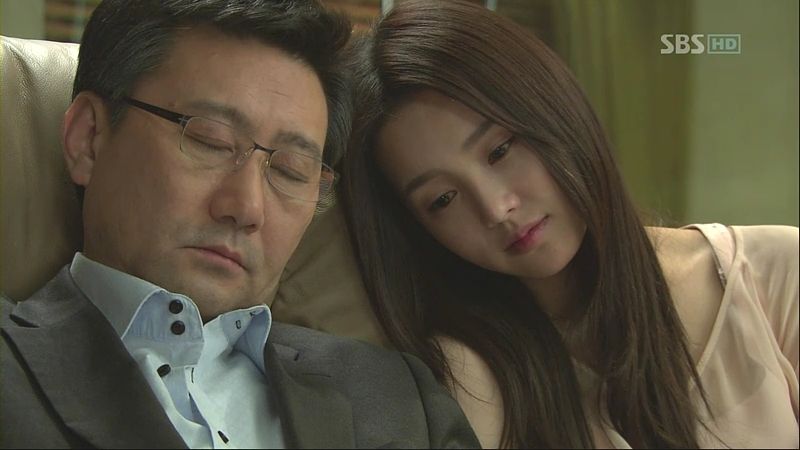 Ji Hyun has a lovely moment resting her spirit next to her devastated and exhausted daddy.
Han Kang has to school Ji Kyung on restaurant service technique and etiquette even though supposedly Song Yi Kyung once worked at a top-rated hotel. Ji Kyung feigns amnesia, and runs off to get her resume from the hotel to placate Han Kang.
At the hotel, Ji Kyung runs into In Jung at the elevator bank. Dum dum dum, she follows In Jung, and sees her meeting up with Min Ho, who pulls her into the room. Ooooh, sexy. But bad. Min Ho, you bad boy.
Ji Kyung suddenly remembers seeing In Jung and Min Ho embracing at the intersection shorting before her car accident, and realizing that she had blocked that memory after the accident.
Oops, looks like getting those three pure tears isn't a walk in the park after all, Ji Hyun.
Thoughts of Mine:
I am just waiting for this drama to gell and for everything to start flowing fluidly with a purposeful direction. So far only Jung Il Woo shines in both his character and performance, though the second Seo Ji Hye and Bae Soo Bin got together outside that hotel room, BAM, I felt the chemistry. I'm already hoping these two can stay together, because frankly Nam Gyu Ri has zero chemistry with Bae Soo Bin and that relationship is so syrupy and dull.
I like Han Kang more than I ought to, purely because he's played by Jo Hyun Jae. Lee Yo Won is doing a solid job being depressed Yi Kyung and perky Ji Kyung, though both characters are rather annoying. I'm sure 49 Days has this greater overarching story that ties all six main leads tightly together, while branching out different potential couplings left and right.
I'm cautiously boarding this ship because I want to believe that the little frisson of complexity I saw at the end of episode 2 foretells what lies ahead – a complicated story of friendship, guilt, and emotional rebirth. 49 Days gets another chance because of the potential I see in the drama, rather than what has actually been delivered. Which is fitting, since this is a drama about people getting another chance at life.
49 Days recaps: 1-2, 3, 4, 5, 6, 7, 8, 9, 10, 11, 12, 13, 14, 15, 16, 17, 18, 19, 20